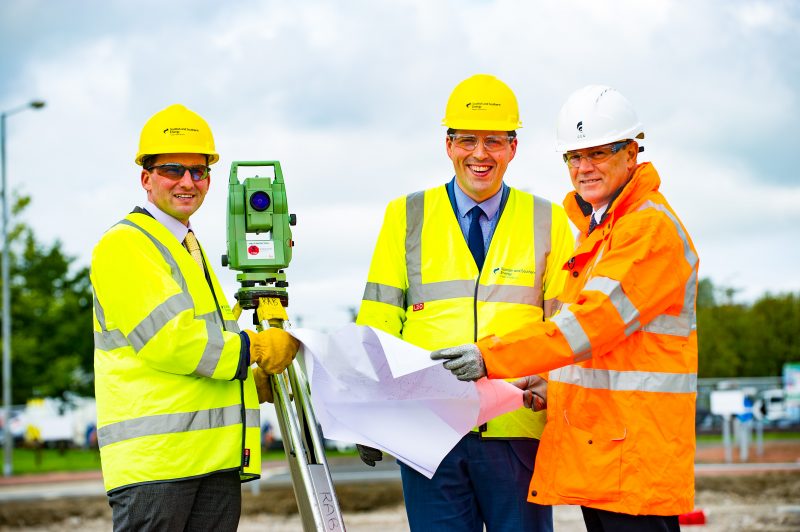 CONSTRUCTION work has started on a "first of its kind" technology centre in Cumbernauld that will test the use of high voltage direct current (HVDC) on Britain's electricity network.
The National HVDC Centre is due to open in 2017 with the creation of eight high-skilled jobs.
The centre will be built near the University of Strathclyde's Power Networks Demonstration Centre and Scottish Power's Training Centre. CCG is the principle contractors to build the facility, which was designed by Glasgow-based BSP Architects Ltd.
This building will be owned and operated by Scottish Hydro Electric Transmission (SHE Transmission), and is funded through the energy regulator Ofgem's Electricity Network Innovation Competition.
The National HVDC Centre will provide a testing facility for electricity transmission owners and operators, suppliers, developers and academic institutions to simulate the use of HVDC on the British electricity network. The facility will use powerful computer simulators, which replicate the electricity network in real time, to allow engineers to study the impact the HVDC systems can have and to mitigate any risks.
Simon Marshall, manager for The National HVDC Centre said, "There are currently four schemes using HVDC technology connecting to the electricity network of Great Britain, with some currently in construction and many more to come within the next 15 years, creating a very complex system. The National HVDC Centre will ensure that each of these projects is tested before going live on the electricity network and then supported through their operational life. The facility will also be used to train engineers on the complexities of HVDC systems and stimulate innovation within the industry."
Jamie Hepburn MSP, the Minister for Employability and Training attended a ground-breaking ceremony to signal the start of construction work. He added, "The HVDC Centre is the first of its kind in the country and it will be used by companies and academics across Scotland, the rest of Great Britain and from Europe. In addition to playing a crucial role in supporting the future of the country's electricity network including major transmission reinforcement between Caithness and Moray, the centre will support construction jobs and once the building is operational it will create new high-skilled jobs in the area. The construction of the HVDC Centre is the third centre dedicated to the electricity industry in Cumbernauld – making it a key location for electrical research and innovation."
Calum Murray, Director of CCG, said, "We are very proud to be working with SSE again to deliver a project that will bring huge benefits to the local economy of Cumbernauld as well as enhancing Scotland and the UK's offering to the energy market for years to come."