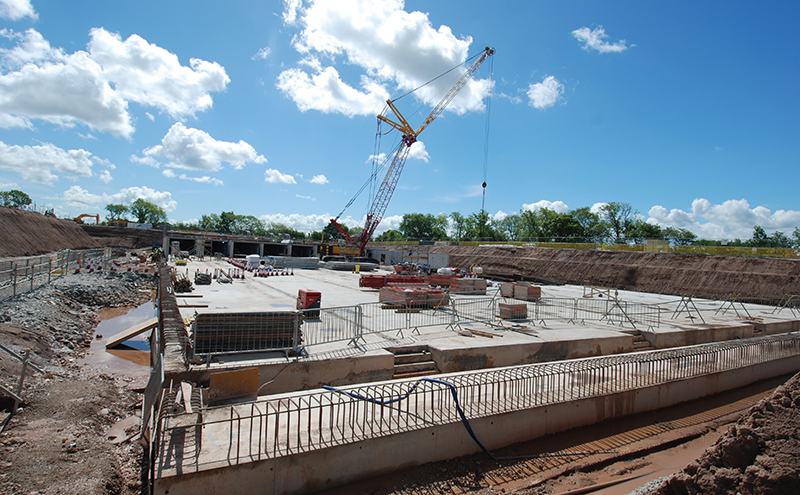 PRECAST concrete drainage solutions specialist Kijlstra designs, manufactures and supplies a wide range of products to the UK construction industry.
A Dutch company which set up a UK base several years ago, it now has a production facility in Somerset.
Kijlstra's systems include a WRc approved watertight panel system that is used to make all kinds of precast structures, typically large water treatment tanks, detention tanks and CSO chambers.
Their single-piece precast chambers are typically used for small CSOs, drawpits, catchpits and manholes. These systems have been used on a number of high-profile projects, including some in Scotland as part of Scottish Water's programme of UID works.
Steve Gainsley, Kijlstra Project Engineer, told Project Scotland's Gary Moug about the firm's work.
Q) WHAT'S THE HISTORY OF KIJLSTRA?
A) Kijlstra is a Dutch company with 500 employees, a turnover in excess of €150 million euros and operations in numerous locations throughout Western Europe. Kijlstra set up an office in the UK about six years ago, though it had been supplying into the UK for four years prior to that. Until about 18 months ago we were importing all of our products from our factories in Drachten, Holland, but we now have a factory in Henlade, Taunton, where we produce a wide range of precast concrete products for the civils industry, covering water, transport, communications, waste, rail, marine, MOD and environmental.
The bulk of our work until now has been in the water industry. Clients include Scottish Water, Welsh Water, United Utilities and Southern Water.  We secured preferred supplier status for Scottish Water three years ago and supply all water companies through their construction delivery partners (CDPs) and their first-tier contractors.
Q) HOW IMPORTANT HAS THE OPENING OF THE UK FACTORY BEEN?
A) It's been very important to reduce delivery costs and also give us more control over manufacturing costs. Despite the good English (spoken by Steve's Dutch-based colleagues), there are still barriers to overcome to deliver to market when working from a head office and factory that's in another country. Having a factory here has improved things greatly.
Q) WHAT ARE YOUR FLAGSHIP PROJECTS?
A) In Scotland, the Scottish Water UID (Unsatisfactory Intermittent Discharge) trench of works, which involved predominantly working with George Leslie Ltd over several years and, more recently, Amey and Black & Veatch. To get to work with them we spoke and applied directly to Scottish Water to become framework precast suppliers or partners. That happened about three years ago after a private project with Taylor Wimpey at Kippielaw (Dalkeith), which was one of our first projects in Scotland. We were asked to provide an attenuation tank – it wasn't particularly big but it was with our panel system. Scottish Water had to approve it and were interested to see the build so they attended the site and as a consequence, they were very interested in securing us onto the framework for their SR10 trench of works.
We completed their application process, which took six months or so, before we were approved. George Leslie – the SR10 first-tier construction design delivery partner – then started to use us for larger precast tanks in the ground with panels. Called CSOs (Combined Sewage Outlets or Overflows), they're predominantly made of precast concrete or concrete to reduce the amount of time on site. With precast concrete they were able to install and be in and out of site in a fraction of the time it used to take when they had to make the tank in-situ.
After Scottish Water had presented us as one of their preferred precast suppliers, George Leslie started to use us, then Amey and Black & Veatch came on board recently as the construction design delivery partner for SR15 works.
SR10 and SR15 works, and our continuing involvement and partnership with Scottish Water, are very key to the Scotland story.
As a consequence of these contracts we picked up some other interesting work with George Leslie, including supplying precast formwork for a new jetty at Wemyss Bay. They had to remove the bad part of the jetty and then rebuilt it using precast. They now have a lovely ferry terminal which is a listed building next to the landing jetty.
Since then we have done a number of large jetties in England, particularly in the south for the MOD through Volker Stevin.
We've also been involved in a lot of the infrastructure works at Hinkley Point Power Station. This included a temporary approach jetty and some chambers. The project is quite topical at the moment (due to the Government deciding to delay a final decision on the project) but we're continuing to price work for it.
We also completed a very large detention tank for United Utilities at Ash Lane in Runcorn which was part of a massive programme of works to improve wastewater treatment and the sewer network in the Mersey catchment area, including the £200 million Liverpool wastewater treatment works at Sandon Dock. The tank was 135 metres long by 42 metres wide by three metres deep, which equates to an area much bigger than a football pitch. Internally the tank is divided into eight 5 metre wide channels which are easily cleaned after a storm event by a flushing system which we also supplied.
Q) HOW IMPORTANT HAS THE SCOTTISH MARKET BEEN?
A) It's an extremely important market for us. With continued business over three years and more companies on board, it's getting busier. We're now supplying to Amey and Black & Veatch and their first-tier suppliers. These supplies are going through Keyline in Glasgow because they picked up the precast supply framework for Scottish Water. This relationship, whilst strange to us at first (as we are used to dealing direct) has now developed into a very good working relationship based on effective communication and regular site visits.
Q) WHAT DOES YOUR ROLE INVOLVE?
A) As project engineer I pretty much see projects from enquiry through to delivery and I'm the client-contractor face. I'm not necessarily a commercial animal, more a technical beast, so I'm there to deliver the product on a technical basis and visit sites to attend installations and offer assistance.
I create the installation guides and also put together the initial concept to accompany the price so the client has an idea of what he's buying. Once he places an order, I put the design brief together in collaboration with the client to send to our designers and our structural engineers, who then create the designs, drawing and calculations. They will get approved and the production drawings will then be made before we produce the item at Henlade. Through that process I'm continually checking with the client that they're getting what they want and making sure things run smoothly once they get to site and after-sales.
Q) HOW DO YOUR PRODUCTS STAND OUT?
A) Our systems are quite tailored. Whilst we have standard formwork to create panels, with the modular formwork we have the flexibility to make out of standard moulds a very bespoke product for the client. We have a very broad product offering so we can deliver single-piece chambers for very quick installation times – a matter of hours. We can also deliver more complex chamber panels that be constructed with little or no site in-situ works.
Q) ANY RECENT EQUIPMENT INNOVATIONS?
A) We've tried to reduce the temporary works element of our panel system by introducing what we call a bolted turnbuckle between the wall panels. Between our vertical wall panels we've got a temporary bolting connection that allows the units to stand alone without inconvenient push-pull supports until they're permanently fixed. This way the client doesn't have to order so many push-pulls and also doesn't have to spend the time fixing them.
We continually take steps to look at speed of installation and try to deliver the materials in a way so the client has minimal work to do on-site to erect. So they don't have to erect a lot of labour-intensive shuttering and wait for concrete to arrive at site to fix the units together.
The units can be bolted together, grouted and permanently fixed with a small amount of in-situ works. We also have other new products soon to be introduced which will help contractors speed up installation and reduce costs.