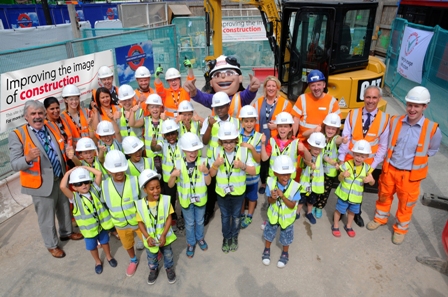 THE Considerate Constructors Scheme (CCS) has introduced a new female mascot for the UK construction industry.
Honor Goodsite will help promote "all that is great" about the sector, raise awareness and inspire youngsters to consider a career in construction. The mascot will also deliver messages about children's safety around building sites.
Honor Goodsite is a structural engineer – a profession which is still very much underrepresented by women. Only 6% of parents surveyed by the Institution of Engineering and Technology said an engineering career would be attractive to their daughters. The CCS aims to help change these perceptions among parents as well as children.
Honor joins industry mascot Ivor Goodsite, a site manager who was introduced by the CCS in 2003 and has since visited hundreds of thousands of schoolchildren across the nation.
CCS chief executive Edward Hardy said, "Honor has a hugely important role to improve the construction industry's image with future generations. As a role model for promoting gender diversity and equality in construction, Honor will encourage schoolchildren to understand the wide range of careers available, while helping to change perceptions of the sector as male-orientated."
CCS director Caroline Barker added, "I am delighted that the industry now has a female mascot. As the first female engineer to be recruited at a leading construction organisation in the 1980's, I know first-hand how exciting an industry it is for everyone."