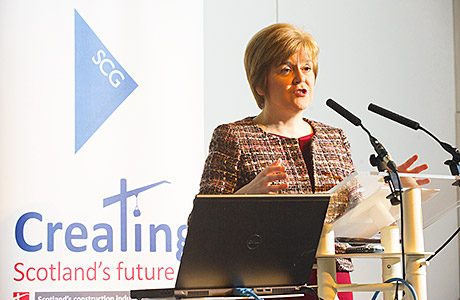 THE Scottish Government has announced plans to speed up capital spending on projects to help stimulate the economy in the wake of the EU referendum vote.
First Minister Nicola Sturgeon said an extra £100 million of funding will be available in this financial year to boost the delivery of infrastructure projects.
Projects will be assessed on a range of criteria including how quickly work can start, impact on employment and geographical spread.
A dedicated service to provide information and support to businesses affected by the Brexit vote is also to be set up, while a post-referendum business network will work closely with the main business bodies, the STUC and the Scotland Office, the Scottish Government confirmed.
The plans were announced at the Golden Jubilee which will receive an extra £5 million to bring expansion of its elective centre forward from 2018-19 to this year.
Ms Sturgeon said, "As I have made clear since the EU referendum, the Scottish Government will pursue all possible options to protect Scotland's relationship with the EU and ensure that our voice is heard. However, it is also important to act now to support and stimulate the economy.
"Scotland is and remains an attractive and stable place to do business – however, there is no doubt that the referendum outcome has created deep and widespread uncertainty, with the impact on jobs and investment already being felt.
"The UK Government has not yet taken any meaningful action to alleviate uncertainty or to boost confidence, and there are very real concerns that the damage to the economy and to jobs will be severe and long lasting. It is against this background that the Scottish Government is announcing early action to boost confidence, stimulate economic activity and support business."
The Scottish Building Federation (SBF) welcomed the new economic stimulus but urged the Scottish Government to focus its efforts to accelerate capital spending on the sectors most likely to boost employment.
Vaughan Hart, SBF managing director said, "In this period of economic uncertainty following the Brexit vote, any moves to accelerate investment in construction projects are of course welcome. However, if the objective is to stimulate employment within the Scottish construction industry, we would argue that investing in housing and smoothing the path for commercial and industrial projects ought to be the priority.
"Over the past ten years, we have seen a dramatic shift in industry output away from housing and commercial and industrial activity towards infrastructure, which accounted for almost 30% of a record Scottish industry output of more than £14 billion last year. At the same time, industry employment has declined from more than 235,000 in 2008 to 175,000 in 2015.
"A strategy focused on rebuilding industry confidence and stimulating employment needs to target additional funding towards housing as well as clearing obstacles to commercial and industrial output. A good start would be to reinstate business rates relief for empty industrial properties."
Industry body Homes for Scotland hopes housing will be prioritised when it comes to allocating the accelerated funds. Chief executive Nicola Barclay said, "This £100 million funding boost is welcomed as a means to support and stimulate the economy in what are uncertain times for many industries, including the home building sector.
"With projects being assessed for accelerated funding based on key criteria such as the number of jobs that will be supported or created and the likely impact on the supply chain, those focused on the delivery of more new homes should be prioritised given the significant social and economic benefits this offers. Every new home built in Scotland supports four jobs and helps boost economic growth through the supply chain. The industry also contributes to improving health and education outcomes and fighting fuel poverty."
Construction Scotland has welcomed the First Minister's announcement. Ed Monaghan, chair of the organisation's Industry Leadership Group said, "This announcement of additional/advance public capital investment by the Scottish Government will be welcomed by the construction industry in Scotland, and will go some way to building confidence given recent uncertainty in the marketplace. To maintain this momentum, Construction Scotland firmly believes that the industry needs certainty, and clear line of sight of such strategic investments over the coming years."