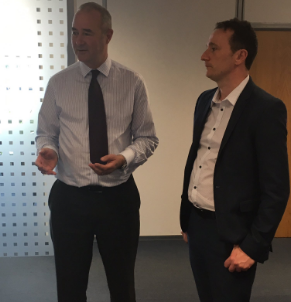 FULTON  MacGregor MSP recently visited Kier's Construction Scotland's offices to learn about the firm's work and its vision for the future of the Scottish construction industry.
The MSP for Coatbridge and Chryston met with staff and senior management at the Stepps base. He said, "As a local employer I welcomed hearing about their operations within the constituency as well as projects across Scotland and I was pleased to hear Kier's long-term commitment to maintain their headquarters in the constituency.
'Construction is an important part of the Scottish economy and I welcome the commitment to address the ongoing skills gap. As the co-convener of the Children & Young People's Cross Party Group in Holyrood I was keen to put across the importance of long term prospects for young people in apprenticeships. 
'I look forward to continued dialogue with Kier Construction Scotland in the coming months and years and am confident that, although challenges exist, the outlook for Scottish construction, and the opportunities for Scotland's young people to go into this industry, is bright."
Gordon Reid, Kier Construction Scotland's business development manager added, "It was pleasing to see how receptive Mr MacGregor and his team were to our thoughts on addressing the skills gap across the country, a key challenge to ensure construction remains a driver for the Scottish economy. Through a concerted effort and hard work from everyone across the industry, future generations will reap the rewards."