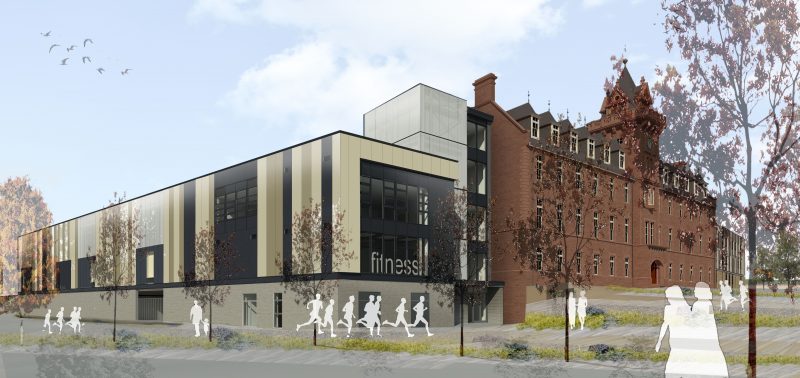 GRAHAM Construction will lead the delivery of all three Phase 1 projects in the Dumfries Learning Town (DLT) programme.
The firm has been selected by hub South West, Dumfries and Galloway Council and the Scottish Futures Trust as principal contractor on the scheme. The three projects are St Joseph's College, North West Campus and The Bridge, a centre of excellence available to all of the new schools.
Graham has already completed enabling works on the £23 million redevelopment of St Joseph's College, the first project in the £60 million Phase 1 of the two-phase programme. Work on the main college building is due to start this month and will involve a "comprehensive" fabric repair, restoration and refurbishment of the original Grade B listed stone building, which was built in the early 19th Century. Graham said the redevelopment of the college will include refurbishment of an existing extension, and the demolition and construction of a new wing.
External activity will include the creation of a new 3G sports facility and the reinstatement of grass pitches.
DLT is procured within the £500 million hub South West Scotland framework and funded by the Scottish Government's 'Schools for the Future' programme.
Gary Holmes, regional director of Graham Construction said, "Dumfries Learning Town is an exciting project and we are looking forward to working with the partners to deliver a new approach to education for the area, starting with the redevelopment of historic St Joseph's College. 
"We have a wide experience of delivering first-class educational facilities across Scotland, from refurbishing existing premises to designing and creating bespoke buildings. The Dumfries programme is one of the largest we have undertaken to date and is a challenge we relish."
Michael McBrearty, chief executive of development partner hub South West Scotland added, "The Dumfries Learning Town Project will generate substantial employment, growth and investment at a local level, whilst creating the infrastructure to support the ongoing education of the young people of Dumfries and Galloway."