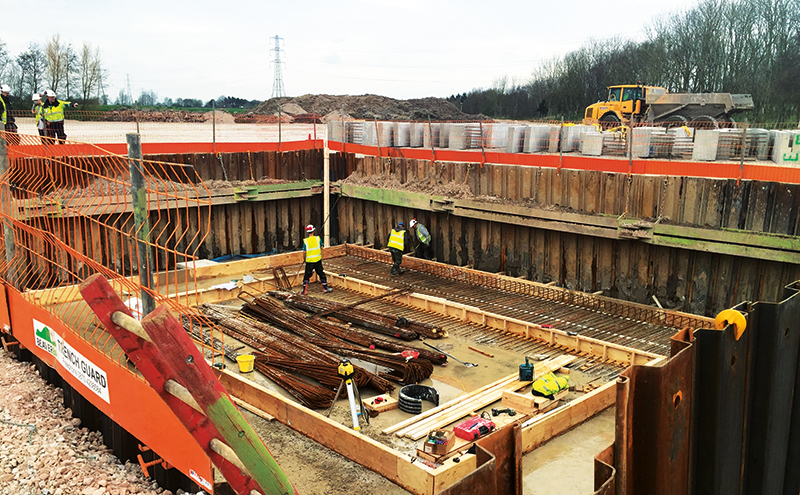 BEAVER 84 has played a key role in a challenging project in North Ayrshire to supply groundworks equipment and services to support the installation of a new drainage system at a manufacturing plant.
The supplier of non-mechanical construction equipment was commissioned by main contractor Kelburne Construction for the job, which involved Beaver designing a temporary works solution for Kelburne's excavation of the site.
Unlike many projects where it is common practice to open a trench some 20-30 metres at a time, Beaver's temporary works solution had to make it possible to install the new drainage system, which meant creating an open trench spanning 130 metres in length.
As the excavation was due to be congested with various cross services, Beaver's solution specified an Aluminium Waler System and Trench Sheets. This, Beaver said, enabled the trench integrity to be maintained whilst providing full access for the works.
"As quite a lengthy project (it began in 2015 and is still in progress) and because of time critical operations on site, it has been reassuring to know that Beaver always ensures that their equipment is fully serviced and readily available from the depot as and when we need it,"  explained David McKendry, Kelburne's site manager.
Following the initial works, a further excavation of 100 metres in length was needed.  As there were minimal cross excavation services with this secondary phase, Beaver recommended using a series of Mini Trench Boxes in combination with Walers and Trench Sheets where necessary.
Mini Trench Boxes are lightweight units which can be moved and located with little effort. "Beaver supplied the Mini Trench Boxes fully assembled and ready for us to quickly and safely install.  This significantly helped us to maintain our demanding program schedule," Davud added.
Beaver 84 first established a presence in Scotland in 1987 when it opened its sixth branch in Wishaw, North Lanarkshire.
By 2012 the business had expanded substantially to 14 branches across the UK.  Two of these branches covered the east and west of Scotland (Livingston and Wishaw respectively).
The following year Beaver saw a further business opportunity to acquire substantially larger premises in a more central location at Salsburgh.
"By merging its two existing Scottish branches into one much larger branch Beaver were able to service the whole of Scotland from one depot and significantly expand its stock levels." said Steve Tysoe, managing director.
Today, Beaver 84 said they are "proud to be seen as one of Scotland's leading suppliers of fencing, groundworks and access solutions", having supplied many projects including access solutions for listed premises Willowyards, Beith in North Ayrshire and groundworks solutions for both St. Vincent's Plaza, Glasgow city centre and Dunfermline Flood Prevention Scheme.