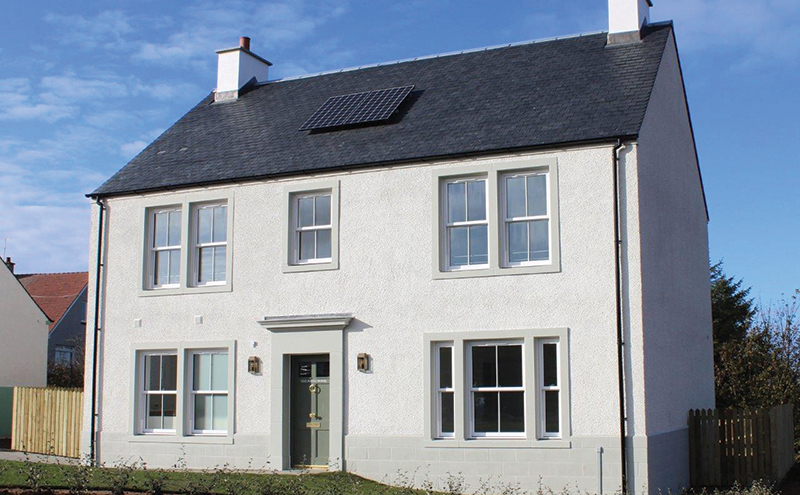 A new luxury housing development in south Ayrshire has opted for a natural slate roof to help give a "timeless look" to the properties.
Ladywell in the village of Fisherton was designed to "reflect the rich architectural heritage of the region, whilst using the latest modern construction methods".
The development features a mix of two, three, four and five bedroom homes. Features include decorative chimney pots, French doors and bespoke ironmongery of house names and doorknockers.
To complete the period look, every house has a natural slate roof, fitted with SSQ Matacouta Heavy Slate.
Anne Hope, director of developers Hope Homes, said, "A lot of care and thought was put into choosing every aspect and facet of this housing development and the choice of roofing material was no different.  We wanted the aesthetic appeal and quality of natural slate with a look that encapsulated Scotland's unique historical architectural style.
"SSQ Macouta Heavy Slate lends itself perfectly to these specific requirements. Its distinctive blue-black colour contrasts eloquently with the light-coloured wet dash exterior rendered walls, creating precisely the timeless look we were looking for. Also, the slate provider SSQ Slate was top notch to deal with."
Cut from the Cabrera Mountains of North-West Spain, Matacouta is said to have been adopted as an alternative to indigenous Scottish stone such as Ballachulish slate.
It has previously been accepted by Historic Scotland for use on listed buildings.
Haroun El-Helw, head of marketing at SSQ Slate, commented, "Our Matacouta's deep riven texture is unique to the Spanish quarry from where the slate takes its name. Its characteristic colour is completely natural, devoid of artificial pigments, and will not fade even in the most severe environments. Additionally, each individual slate can be traced back to its source so you can have supreme faith in your roof."