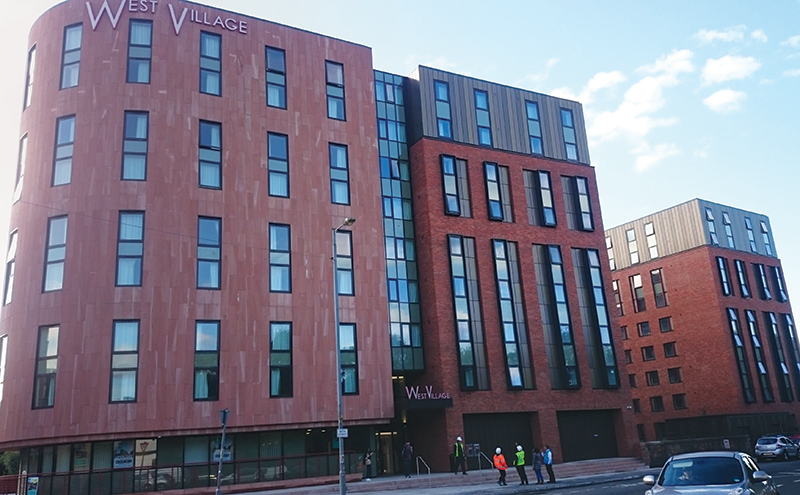 Justin Price, sales director of Aliva UK, tells Project Scotland how the most modern of lightweight stone rainscreen cladding can harmonise with traditional settings
ALIVA UK has honed stunning lightweight stone finishes for two student accommodation blocks set in the imposing architectural heritage of Scotland's two major cities.
Local planning regulations in Edinburgh and Glasgow required us to deliver stone cladding that harmonised with the existing traditional architecture. We responded with traditionally-detailed facades using lightweight stone rainscreen cladding.
For the 10-storey new-build West Village on Beith Street in Glasgow, architects Falconer Chester Hall specified a curved façade using 1000sqm of red sandstone sourced from a local quarry. The façade incorporates double soffits and a bespoke fan-shaped radiused facade.
For Elliott House in Edinburgh, 3D Reid commissioned us to craft a 1000sqm buff sandstone finish for the £6.6m conversion of a six-storey office block on the corner of Hillside Crescent and Brunswick Street. Detailing on the façade included reveal panels into the windows and monolithic corners to add depth and historical context.
For both projects, the architects wanted a luxurious, contemporary façade that was suitable for modern lightweight construction methods, while paying homage to the majestic heritage of these great cities.
Scotland is globally renowned for its beautiful natural stone heritage, and planners rightly want new buildings to take a respectful place within traditional settings. There are a number of factors to consider when specifying cladding to meet this brief. With land prices at a premium, modern projects are reaching dizzying new heights. It is no longer possible to utilise stone slabs weighing in at well over a tonne per square metre.
Modern lightweight steel frames, SFS type walling systems and CDM lifting regulations all further restrict the use of traditional stone.
Our state-of-the-art Aliva Air lightweight solution was the answer for these two student accommodation projects.
It consists of natural stone panels of up to 3m X 1m in 10mm 'slices' that weigh less than most terracotta rainscreen systems. We can supply panels in limestone, sandstone, granite and marble, enabling this beautiful material that is old as time itself to remain timeless. Aliva Air is also available in ceramic and glass.
These days, architects constantly strive to minimise the eco-footprint of new buildings, and Aliva Air meets the brief here too. Our ultra-thin panels allow greater yield of the quarried slabs. And the stone for both projects came from British quarries, further adding to their green credentials.