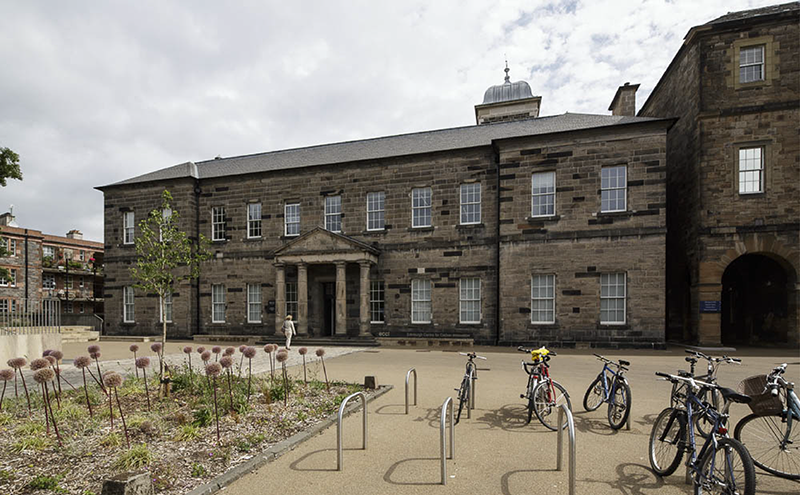 Building sustainability assessment method BREEAM has registered over 2.2 million buildings and certified over 500,000 developments worldwide since its launch. Project Scotland's Fraser Rummens spoke with BREEAM director, Gavin Dunn, about how the company has developed over its 25-year history, the effect on the construction industry and what the future holds for sustainability in buildings
Q) WHAT IS BREEAM?
A) BREEAM was the world's first sustainability standard for buildings. Essentially, it is a technical standard linked to a certification scheme, which allows people undertaking or procuring building works to demonstrate or specify a level of performance beyond what they are required to do by regulations. We operate in that space between the building regulations and mandatory standards and at the top end of the art of what is possible. Everything within BREEAM looks at buildings on a holistic basis across a wide range of categories so that you're dealing with a wide range of environmental issues, but also, you're able to manage some of the unintended consequences that sometimes happen when you're raising standards.
Q) HOW HAS BREEAM DEVELOPED OVER THE YEARS?
A) It started as a very small number of people collaborating internationally around emerging needs. There was a very scientific approach and lots of passion and excitement around it. Over the years it has matured and it went through a phase in the middle of its life where it became very much a proxy for regulation and government using it to drive up standards and to drive sustainability into building works.That probably saw its main growth, particularly here in the UK, over a period of about 10 years from around 2000. What we're seeing now is the product has almost gone into the next lifecycle stage where, because building standards have increased so much, we're increasingly seeing it less being around government specification and more about end user and investor specification. We are in 78 countries; about half of the activity is now outside the UK.
Q) HOW HAS THE INDUSTRY TAKEN TO BREEAM?
A) The industry has responded in different ways at different times. There were times when the industry was saying 'this is coming at me and I'm not quite sure how to do this,' and it created some challenges, whereas now we're getting quite the opposite. We've got parts of the market saying 'challenge us more'; we've got some developers who are building to the top end of the standard regularly and saying 'what's next?'
In the prime real estate markets around the world it is now how they do business and they need to demonstrate this is the level of performance buildings are being built to and BREEAM is one of the tools of choice for them to demonstrate that and specify that. In broader markets, it is mixed. In some places, people are still quite happy building to regulations and continue to do so.
Q) WHAT DIFFERENT CATEGORIES ARE INCLUDED?
A) There are nine key categories – Energy, Health and Wellbeing, Materials, Management, Pollution, Land Use and Ecology, Transport, Waste and Water.
Q) WHAT IMPACT HAS BREEAM HAD AROUND THE WORLD?
A) We've got a little over 2.2 million projects that have been registered, either coming through, or about to go through, some form of assessment. That has resulted in about 540,000 certificates being issued – that's where verified action has been taken. These are all projects where people have demonstrated they have gone beyond what they are required to do, so the scale of the impact is huge.
We've also done some work looking at how BREEAM has contributed to the UK Government's 2025 construction targets. It talks about reducing the trade gap, lower emissions, lower costs and faster delivery and when we start to measure against that, what we see is that BREEAM projects now account for about £10 billion plus a year of transactions in value in the UK economy, much of which is export. On emissions, the average BREEAM building is around 22% lower carbon emissions; with some of the higher rated buildings it is 70, 80, 90% better.
In terms of lower costs, research shows that BREEAM buildings up to the Very Good level can be done with no additional costs. At BREEAM Excellent you're seeing 2 to 3% additional capital cost but you're seeing that recouped just from utility savings alone in three to five years, depending on location.
Some anecdotal evidence suggests that for BREEAM Outstanding you might be looking at 7 to 10% more capital costs; some building types 12 to 15%, but then you're seeing the value of those properties in a number of markets being 8 to 10% higher.
Not only have we had an impact on a lot of projects, we're starting to see how it is impacting market expectations for buildings. This idea that lowest capital cost is best value, which is kind of where our industry was stuck for a very long time, seems to have been dispelled.
Q) WHAT HAVE BEEN BREEAM'S BIGGEST ACHIEVEMENTS?
A) I think fundamentally it has changed the aspiration of what the industry thinks it can do. As a framework that is not prescriptive but allows people to find different solutions and is performance and outcome-based, it has allowed the industry to figure out what good looks like in terms of performance, it has allowed the industry to experiment, play, learn and sometimes fail and learn from failure but sometimes learn from success. What we're seeing now is we have a capability of building any type of buildings that have a level of performance and a level of quality that 20 years ago we could barely dream about.
Q) WHAT INNOVATIONS HAS IT BROUGHT TO THE MARKET?
A) There is a wide range of technologies, which we now routinely put into buildings that probably wouldn't have got either any traction or anywhere near the traction that they do now by looking at the holistic building performance. Also, the other big shift is the way we design and construct buildings. The whole processes around design are much more focused around the building as a whole and how it works as a single entity; whereas, if you wind the clock back 10, 15 years, we still thought in the form of walls, roofs, windows and heating systems. We didn't actually think about the building, in performance terms, as a whole. BREEAM was the first building standard to do that and to look at building and building performance in that way.
Q) HOW HAS BREEAM HELPED CREATED A MORE SUSTAINABLE ENVIRONMENT?
A) If you look at it just from an emissions point of view, on average it's 22% reduced emissions from these buildings and those are just UK numbers. If you go to other parts of the world where perhaps energy standards are lower, it's much higher than that.
Also, in every single one of these projects there will also be reductions around water usage, drainage, enhancements of biodiversity, there will be improved air quality, there will be much less a likelihood of pollution occurring either in the construction process or in the building's operation. There will be less waste produced during the construction process on all these sites.
In terms of the environmental benefit, there are significant savings and while those savings are different and unique to each project, they are a considerable and broad range of benefits.
Q) WHAT DOES THE FUTURE HOLD?
A) We are very focused and well in the process of building the next generation of BREEAM products around a number of key principles. Firstly, just tackling the building at one at one site stage of its life isn't good enough so BREEAM is evolving into a family of schemes that are tailored to deal with different lifecycle stages and different scales of the built environment. We've now got products which we've had tailored to large infrastructure projects at a national or regional level, we have schemes which are tailored to urban development and urban redevelopment and then at a building level we've got design, construction, post-occupancy and in-use. We have a refurbishment and fit-out scheme so that when buildings come up for some sort of improvement we can embed into that process the additional benefits and performance aspects which often get forgotten.
At some point, we will have an end-of-life product. We think in the future, and this hasn't come yet, there will be a product which will be much more akin to circularity, which is how do you deconstruct a building, or perhaps how do you construct a building to start with so that it's easily deconstructed at the end so the materials are reused, so you're really starting to focus on the whole lifecycle of the building to maximise the benefit of the resources utilised and minimise the environmental impact.
Underlying that, we're seeing huge globalisation on this. This is definitely an export opportunity for the UK; we've had a 25-year head start on most of the world on this. British contractors, British designers, British architects and British engineers know how to do this and the global market for these buildings is growing and we know UK supply chains do well and are very competitive when people use these standards – we're seeing that in China, we're starting to see that in Eastern Europe and other countries. British firms do well.