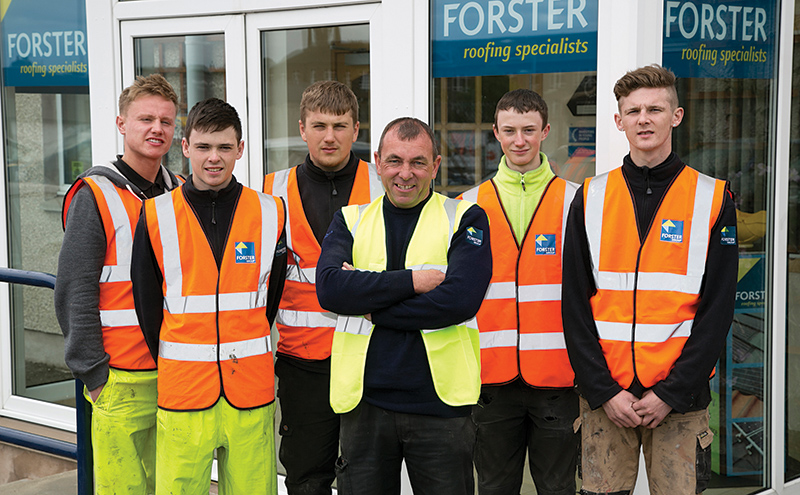 ANGUS-based roofing and solar PV contractor Forster Group is doing its part to combat the skills shortage in the construction sector by creating its own in-house academy where young people can gain a qualification in new build roofing.
The Forster Skills Academy, based at the Group's head office in Brechin, offers a two-year Modern Apprenticeship (SVQ Level 2) qualification that combines on-site and off-site training.
Forster Group human resources director Maureen Douglas told Project Scotland, "Forster has been on the go for over 25 years. We have a strong track record of employing young people to complete apprenticeships across all areas of our business."
The concept of the Skills Academy came about in response to challenges the Group faced – the shortage of skilled trades working in the sector, the relevance of the traditional apprenticeship and the timing of the off-site training.
Maureen, who is also on the CITB's board of trustees, explained, "It was problematic in a number of different ways, so we started the journey…we sought to create a qualification that was specific to our industry. It's not that there was a problem necessarily with the composition of the traditional apprenticeship qualification; it was more about the specific nature of the work we do and the fact that this was not explicitly covered.
"A clear example would be that in the Roof Tiling for New Build apprenticeship there is no roughcasting taught, because that's not what our roofers do in a new build context, but there is a greater focus in our qualification on the NHBC standard for roof tiling and manufacturers specifications to deliver a zero defect roof.
"We created a Working Group involving other roofing contractors, National Federation of Roofing Contractors (NFRC) and CITB to develop the Roof Tiling for New Build qualification."
Maureen continued, "We've been working with South Lanarkshire College and have been delivering the new qualification on-site at our own Skills Academy based in Angus. The qualification is also being delivered at South Lanarkshire College for other roofing contractors and it is available for any contractor working in the sector.
"Whilst we have a greater degree of flexibility because we deliver it ourselves, it is validated and verified by South Lanarkshire College's quality control system. So, in essence, we are a satellite centre of the college, which presents advantages in terms of having ownership and control and direct input in terms of the learning experience."
While Maureen admitted that "it was not in our original business plan to develop our own in-house training academy" she said the Group "felt it was necessary to make the investment, to increase the number of new entrants entering the sector and provide a direct input into how it is delivered".
The Training Academy was launched in May 2015. 12 apprentices have already been taken on and a further 12 are currently being recruited. Apprentices come to the Academy site for two-week periods, over five months, with a follow up skills week at the end of year two.
"The training programme that we deliver is all based on the material specifications and the type of products that they'll use out on-site, so we've been able to facilitate the real integration of knowledge into practice."
The apprentices are trained in groups of six by full-time, on-site trainer, Lindsay Kemp, which Maureen said, "develops a real team ethos".
"They have a mix of being in the practical training area, being in the classroom and being out on-site. We deliver additional units, like estimating and quantity surveying, which helps them from a very early stage in their career to understand the bigger picture.
"What we've tried to do is take a technical craft qualification and make it a fuller learning experience for the young people.  All the programs have been involved in extracurricular activities run in the local area including hillwalking, skiing, go- karting and each program is signed up to the local gym so that they have alternative activities to occupy themselves with during the evenings.
"In a month or so time we'll have 24 new build roofing apprentices in training and we plan to continue investing in apprentices in the years to come."
Maureen explained that the reaction to the course from the apprentices themselves has been "really positive".
"It's quite exciting for our apprentices to be coming to Angus and to be looked after over a five-month period. You can see their confidence grow and there is a real feeling of pride. We have over a thousand applicants for these vacancies, so it's a real achievement for them to even get in."
Speaking on the current skills shortage in the sector, Maureen said, "I think there is a real opportunity to take a more collaborative approach. We need to think differently, and think creatively, but with the appropriate safeguards in place, to ensure that the learner's experience and the quality of their apprenticeship is at the very heart. That has to be the main driver, as well as ensuring that new entrants are coming into the market.
"One of the ways I believe we can do things better is by not just creating apprenticeship opportunities for new entrants but by creating career pathways.
"One of my personal objectives over the next ten years is to help the sector in Scotland think about things a bit differently, so that we can bring people in at times of growth and also so that we can reskill and retain people, to enable them to move across crafts or sectors.
"I feel passionately about the sector, and I think there's a lot we do well, but there is so much more we can do with some out-of-the-box thinking and collaborative working."