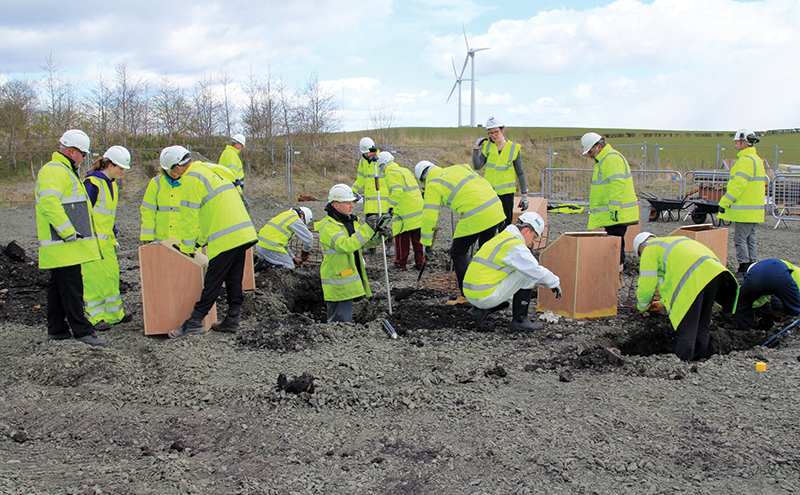 Gary Moug visits Constructionarium Scotland, where the nation's construction students get a vital opportunity to put theory into practice
A cold, muddy construction site in the heart of West Lothian has provided hundreds of Scottish-based construction students with a taste of the "real world" over the past six years.
Constructionarium Scotland takes youngsters studying a range of disciplines, from quantity surveying to structural engineering, and challenges them to work as a team to construct replicas of iconic structures including the Barcelona Tower and Kingsgate Bridge.
The week-long project takes students out of the classroom and provides crucial hands-on practical experience to go with the theory.
Constructionarium has been operating in the UK for around two decades, based at the CITB's headquarters at Bircham Newton. It was originally set up to plug a gap in undergraduate education and works through a 'triangular' collaboration between contractors, academia and design consultants.
Six years ago, with the help of a sizeable grant from the CITB and the donation of a suitable site in Blackridge courtesy of Sibbald Training, the innovative learning experience found a home in Scotland. Since then, some 800 students have passed through the site.
Dale Lyon, director of Constructionarium Scotland, explained, "We know of students who would have walked away from their degree course if they hadn't come on to the practical coursework that Constructionarium offers.
"This type of hands-on experience is paramount. One of the reasons Constructionarium started out was that, in the early days, they saw that within the university set-up they were teaching the academic way of looking at things – the theory side of things. That's great, but when you've got lecturers who haven't actually been on site themselves, theory is a totally different thing when you hit the site.
"Constructionarium helps candidates decide whether they want to be a consultant or whether they want to be a contractor's engineer – or whether they don't like it at all. If they deal with it now, there's still time to rectify things. What we find more often than not is students really engage with the programme."
So how does it actually work?
"The projects work in a triangle," Dale added. "We have the universities and academia, the main contractors and the consultants. Two meetings take place prior to coming to site where we talk through projects, look at drawings and start the planning – looking at health and safety, cost control, environmental impacts.
"When we hit the site, the students become the main contractor and the main contractor becomes the client. The students are let loose to create their representation of iconic structures.
"Feedback has been excellent. It's good having it written in a book how things are created (but) when you have to actually make the creation happen yourself, it brings a reality check. It gives students a better understanding of how long things take and what problems arise.
"These engineers are on site all week tying steel, making formwork, casting concrete, taking apart formwork.
"When they become engineers, they won't be doing that manual labour but they'll now have an appreciation for the people who are doing it.
"When they come to Constructionarium, they think more's going to get done for them. They learn how time is precious. Sometimes rather than diving in, it's better to step back and make an overview of what's going on to make better decisions. It's not always important to get the job done. It's better to make sure that what we're doing is going to get everyone home safely.
"At the moment we're doing five weeks a year with five universities. We've got four contractors involved this year. We'd like to see more becoming involved to allow us to expand it out to more students. It would be nice if we could get to eight full weeks of 50 students. That's what we're looking for but we need industry support to allow us to do that."
In order for Constructionarium to work, the process depends on contracting firms sponsoring the events and providing support to the students. In the week Project Scotland visited, McLaughlin & Harvey was sponsoring a group of around 40 students from Heriot-Watt University.
Dale said the process has been used in the past as a valuable recruitment tool for firms and helped students land jobs. "Construction companies that have been involved with us are getting to see good quality students that are applying themselves," he explained. "The fact they see what they've got to offer is the best interview process yet and we know that a lot of the construction companies involved with ourselves have taken on graduates based on them being at Constructionarium.
"We've also found that, from an interview process, because not everyone does Constructionarium it sets those who do ahead of others. It creates a dialogue which allows companies to find out how much more practical their learning experience has been."
Jim Harkness, McLaughlin & Harvey senior project manager, spent the week on site with the students and was thrilled to see the evolution that took place. He said, "The week started with the students being split into three teams and tasked with constructing three projects – the Barcelona Tower, Millennium Galleries and Kingsgate Bridge.
"They had to cost the projects from the very start, work within budgets, scrutinise drawings, quality control. A lot of these students have done everything theory-wise but with no practical knowledge. On the first day they were rather green. They've grasped it well and gelled as teams.
"By the end of the week, they delivered the projects. You can see people who've got leadership qualities and who are able to delegate tasks and have the teams function as well as they can.
"They've had to get the foundations ready, do the formwork, tie the steelwork, measure for the joiner to cut materials. A lot of these students will go on to jobs where they won't be doing this (but) I think it will make them appreciate the operatives who have to do this on a daily basis and how hard it can actually be.
"They've also been working in all weather conditions, which they have experienced this week. On Monday quite a few were like rabbits in headlights but come the end of week they've evolved. Every student we speak to is very surprised at how difficult it is and how much they are enjoying it."
Those sentiments were echoed by George McEwan, McLaughlin & Harvey works manager, who was on site to oversee all three projects. "For the students (this week has) been invaluable because they've probably had two years of theory but now they've had to put it into practice in the simplest of things like sawing a bit of wood, hammering a nail in, pouring concrete, building formwork," he said.
"I think it's been a real eye-opener to the practicalities of how we do these things. I think they've underestimated just how hard it is for joiners, steel-fixers and concrete pourers.
"On the Monday they were full of youthful exuberance, ready to take on the world. By the Tuesday, they were starting to flag because they'd seen how hard it is. Wednesday/Thursday they really started to pick it up and Friday's been really good because they've crossed over into knowing how hard it is, got themselves into teams and really started to go at it.
"Another severe shock to the students was that when the snow comes on at the end of April we continued to work, which is real world. That was a real shock to the system.
"Apparently Scotland's the only place where you can get sunburn and frostbite on the same day!
"These 40 kids are the future of what we're doing in civil engineering. If we don't get involved and try to encourage it, we're missing a great opportunity to get some of the kids through into decent jobs with decent companies. It's been really good."
The students themselves confessed the week had been a challenge, albeit one which has benefited them hugely and given them a taste for life on live construction sites.
Connor Ralph, a structural engineering student, said, "I've been waking up at 5.30 to get the bus in and getting back home at 7pm. The nights have been short but you feel like you're accomplishing something each day. It's a struggle to get up but when you're on site you feel like you need to do stuff and you're just compelled to do it no matter what.
"It's been reality – very little of our team is experienced in our chosen roles. Steel was new to me. I learned that doing the ties takes hours and days – we said we'd complete it in a day but it took three days. It's that practical aspect that you underestimate.
"You definitely need it (this type of practical experience). This is my first time on a construction site. It's got me excited about it. I consider myself a bit shy but as soon as you go to deadlines and have to get things done, I've been telling everyone what to do. I was leaning towards the theory behind buildings (but) now I'm on a construction site, I like the hands-on aspect."
Fellow student Catriona Salvini agreed the week was invaluable. "It's been really important," she said. "It's the first time they've let us outside to play with the real toys!
"I'm surprised about how hands-off the McLaughlin & Harvey staff are. If we need to ask questions, they're perfectly happy to help. But for the most part, we're left to get on with it. I thought they'd be looking over our shoulders more. They let us mess up and then, if we need help un-messing up, they help us think around how we can deal with what we've just done.
"Even if students want to go into the consultancy side, it's good to be out on a site and see how what you've done in the class or design office fits together. It gives you a lot more respect for the labourers onsite. We've all gone home at the end of the day and been asleep for 8.30pm!"