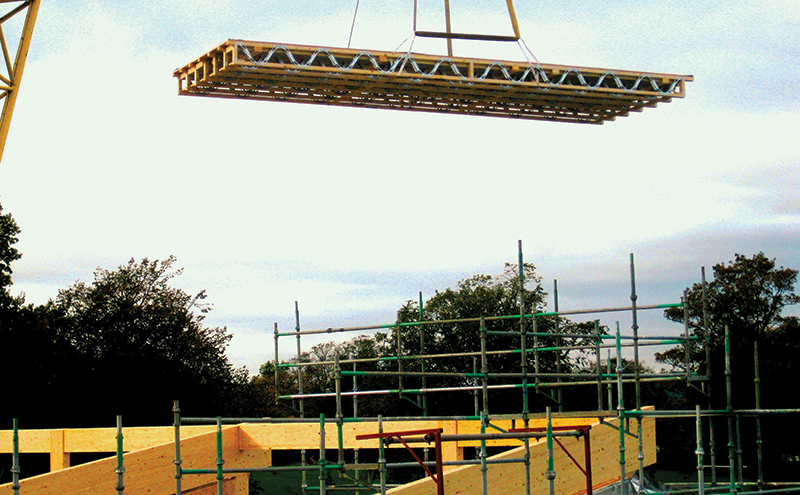 CONSTRUCTION of the new roof at Errol Primary School saved time and money thanks to "innovative" timber engineering design from Ochil Timber, the firm has claimed.
The Perthshire school is being extended to provide extra space for youngsters.
Ochil's proposal for the roof involved manufacturing pre-insulated roof cassettes from SpaceRafters. This idea, Ochil said, met with the approval of clients Glulam Solutions and Morrison Construction, who are the main contractors on the project.
55 roof cassettes, containing 342 SpaceRafters, were fabricated offsite at Ochil's factory in Denny, and incorporated a 'top hung' detail which was said to eliminate the need for joist hangers.
Ochil said this meant the roof cassettes could be craned and "dropped snugly" into place between the glulam and steel elements of the structural frame.
Andrew McAree, Ochil managing director, said, "By providing a top hung detail and pre-insulating the roof cassettes offsite we not only saved our clients lots of time and money, we also created a much safer working environment, by eliminating the need for manual work at height."
Graeme Milne, business development manager of Inverurie-based Glulam Solutions added, "Ochil took full design responsibility for the roof cassettes, and the installation process was quite seamless."
Glulam provided the exposed structural glulam frame for the extension. The firm also introduced a number of Cross Laminated Timber (CLT) walls.
Describing the erection of both the structural frame and roof, Graeme Milne added, "It was a quick process, and as the same plant could be used to crane in the frame and the roof, this was a particularly cost effective way to build."