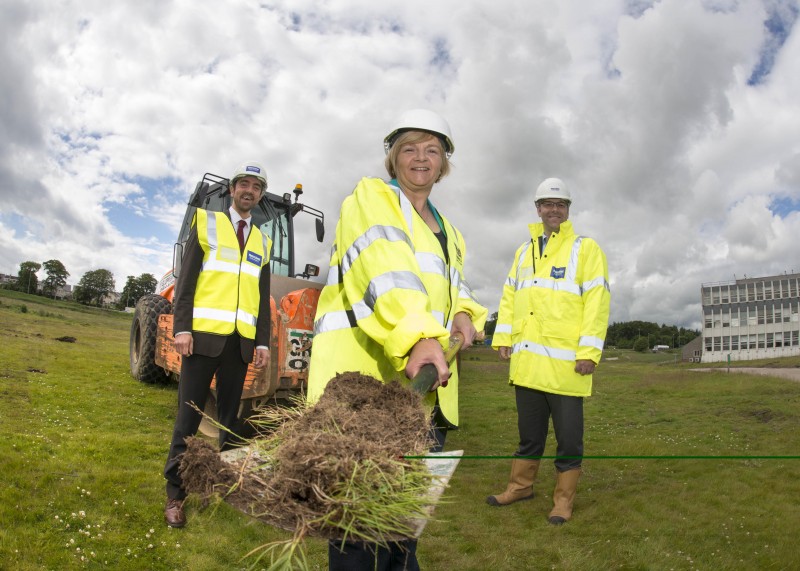 CONSTRUCTION has started on Aberdeen's new "world class" exhibition and conference centre, which is tipped to bring an extra 31,000 business tourists to Scotland annually.
Aberdeen City Council and development partner, Henry Boot Developments Ltd, have taken part in a ground-breaking ceremony at the site of the multi-million pound project, which will also include three new hotels and an energy centre.
Henry Boot Developments said the project will create 600 new jobs during construction and over 350 "full-time-equivalent permanent positions" by year 10 of operations.
The centre, which is due to open in 2019, is expected to attract major artists and events and provide a major boost to the North East economy. The new facility will have four times as much exhibition space as the current AECC, and increase the maximum capacity to 12,500 in the arena.
Council Leader Jenny Laing said, "The City of Aberdeen is currently undergoing one of the largest regeneration programmes in its history and it is fantastic that work has now started on the AECC which is a key part of Aberdeen City Council's overall Strategic Infrastructure Plan.
"The new venue will ensure that Aberdeen retains events such as Offshore Europe which brings £140million to the local economy, and the significant economic benefits they bring, while securing new events for the city. It will provide a step change for the future by providing a modern and fit-for-purpose facility, which will be the most sustainable of its kind in the UK."
Nick Harris, director at Henry Boot Developments added, "We've worked very hard with our design team to ensure that this new facility will be a world-class leisure and business destination, and starting work on site to turn these plans a reality is another major step forward.
"As well as being a place for the people of the North East to be entertained, this new facility will also be a key element of the business structure needed to promote Aberdeen as a World Energy City and the Energy Capital of Europe, and will provide a strong platform for sustainable economic growth for the area."
Scottish Enterprise has contributed £10 million towards development of the centre.