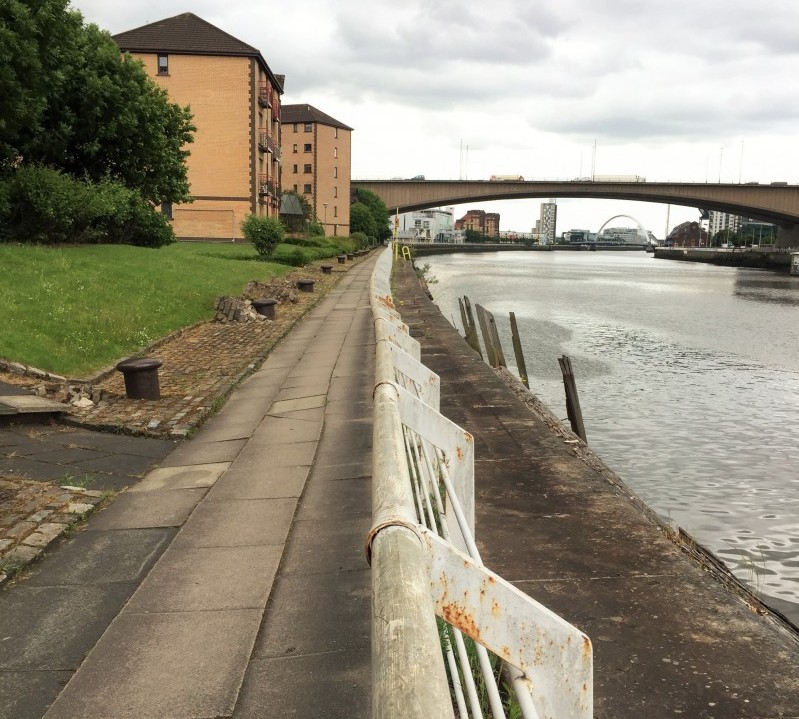 "URGENT" repair work is being carried out to stop the quay wall at Glasgow's Windmillcroft Quay collapsing into the River Clyde.
The "interim" repair work will cost the 278 homeowners at Windmillcroft Quay around £470 each. Work will involve the re-grading and lowering of the ground beside Riverview Gardens to relieve the pressure bearing on the quay wall in the section most vulnerable, and will include the dismantling of a section of the quay wall.
Glasgow City Council erected temporary fencing in 2014 to close the core path at Windmillcroft Quay at the Waterfront Development, as the quay wall was in danger of collapsing. 
Tom McKie, Director at Speirs Gumley,who factors the Waterfront development, said, "We know what a worrying time this has been for the owners of the Waterfront Development, particularly those whose homes are closest to the worst affected section of Windmillcroft Quay, and we have been working tirelessly on their behalf for the past two years in an attempt to reach an agreement to allow remedial works to start.
"We have had to go way above and beyond our usual responsibilities as Managing Agents to assist our clients in this situation, but we understand their concerns and the real threat they face from the possibility of a collapse of the Quay Wall, and indeed the financial burden they have had to bear. 
"From the outset we have tried to find practical and cost-efficient solutions for the repair of the quay wall, including helping homeowners set up technical and legal advisory focus groups which harnessed the relevant professional skills of owners living in the development e.g. engineers and solicitors, to working with and engaging the support of Glasgow City Council, John Laing Group plc and Taylor Wimpey. 
"This repair work getting under way is a very important step forward for everyone involved and we hope to reach agreement on the long term solution to this issue as soon as possible."
Nicola Sturgeon, MSP for Glasgow Southside, said, "As well as affecting hundreds of homeowners, this quay wall forms part of the banks of the River Clyde on the edge of the City Centre, is a major part of the City's infrastructure and has a core path route running along it which has been closed for now almost two years, so resolving this issue is extremely important to me.  I've been working closely with Speirs Gumley Property Management, my constituents, and all affected parties, to help address the problem. It's encouraging to see this preventative repair being carried out and I look forward to finding a long term resolution to this issue."