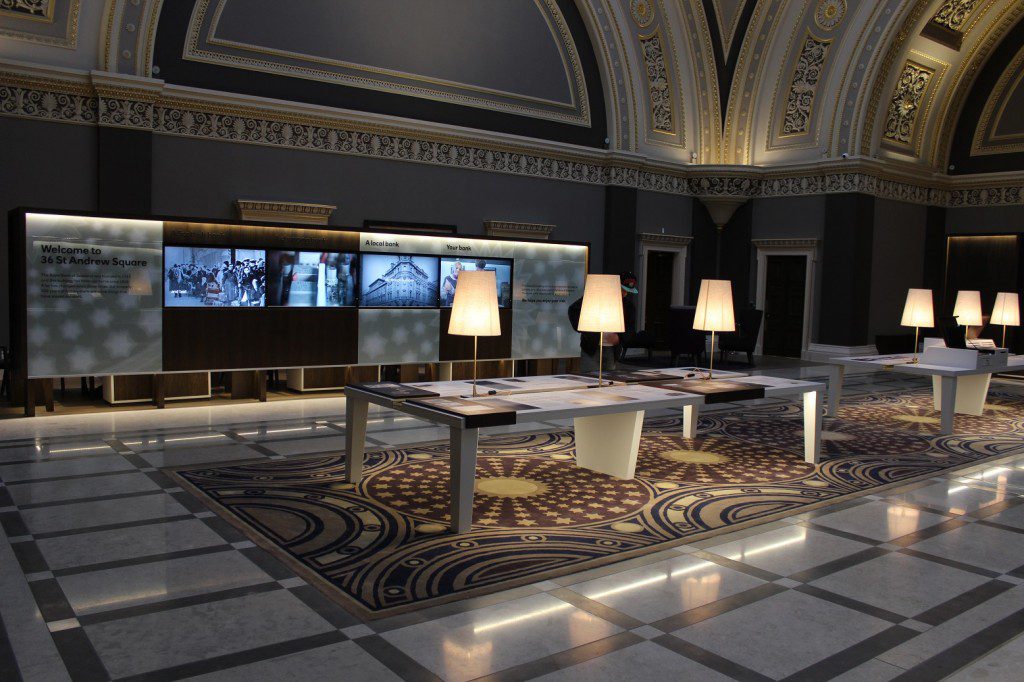 Fit-out contractor Morris & Spottiswood has completed a restoration and refurbishment project at the Royal Bank of Scotland (RBS) headquarters in Edinburgh.
Project director, Andrew Neill, described working on the 28-week project as "a privilege".
"Dundas House was originally built as a mansion home by Sir Lawrence Dundas of Kerse in 1774. It became a banking house in 1860 and continues to hold a very special place in the history of the Royal Bank of Scotland. The scope of the restoration project required us to not just refurbish the bank but to include an educational audio-visual display to inform customers about the bank's history – right up to the present day.
"To achieve this we offered a phased delivery, starting with the refurbishment of closed sections of the building before implementing a temporary branch arrangement to enable a closure of the banking hall. A section of the original encaustic tiled floorforms part of the customer display. A similar Minton tile installation was used at the White House in the 1880s before being removed in 1902, while the US Capitol Buildings house another fine example. The banking space is now dual purpose because it not only works on an educational level but remains a fully-functioning working bank."
RBS chief executive officer, Ross McEwan, said, "Whenever you work in such a historic building there are invariably a number of constraints on site. In addition to this we had to engage Historic Scotland and the planning office upon the discovery of the original flooring. We also spent a considerable time procuring the right fit for everything on this contract to ensure it had the 'wow' factor.
"Morris & Spottiswood has worked on a number of prestigious projects in recent years, which help to demonstrate the extensive skill set and experience we have within the business. They are always a privilege to work on and this project has had fantastic feedback so far. To be able to deliver a prominent, complex project like this and to manage all the unexpected hurdles required a huge team effort. It was vital to keep the communication lines open every step of the way."