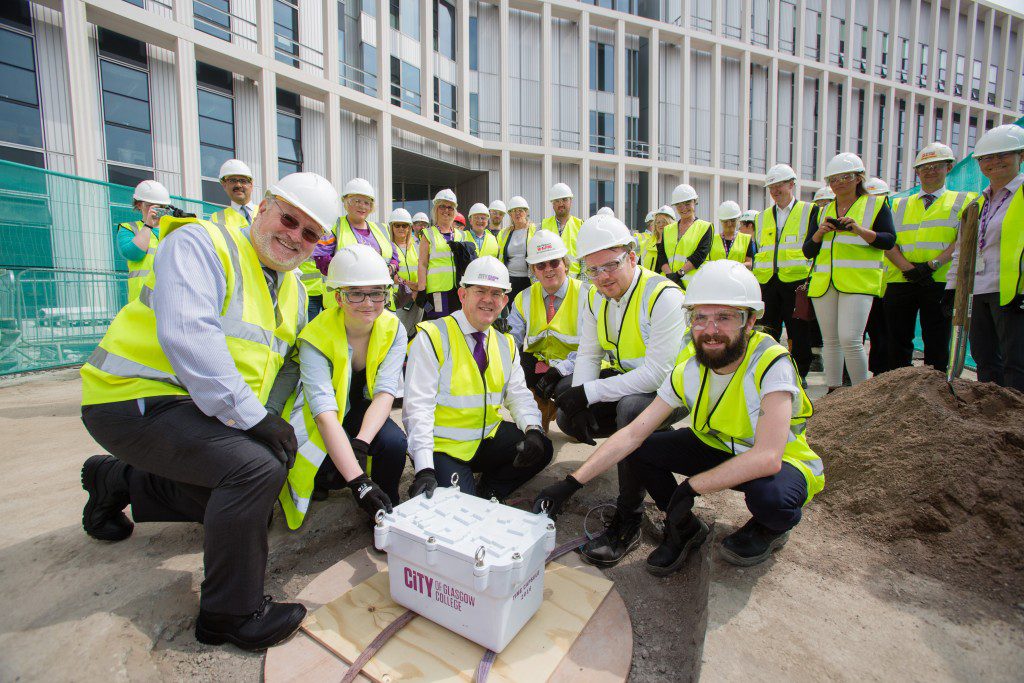 City of Glasgow College recently buried a time capsule underneath the entrance of its new campus on Cathedral Street.
The 12mm thick, 22-kilo container has a lifespan of at least 50 years and was designed by the College's HND product design students.
Sealed inside are items that document the history of the college and how it has changed over the years. Also included are two letters – one from current principal Paul Little to the 2066 principal and one from deputy first minister for Scotland, John Swinney.
Paul Little, said, "In burying our City of Glasgow College DNA, I hope that the excitement we feel today with the construction of our super college will be matched by those who unearth the capsule in 2066 or beyond.
"By then an estimated six million students will have passed through the doors of our twin site campus and our next generation college will be renowned as a game changer, responsible for redefining a new era of tertiary education. I sincerely hope that our hard work today will have delivered an educational hotspot and skills powerhouse for Glasgow which is the envy of the world in 2066."
Janis Carson, vice principal and project sponsor for the new campus, added, "This marks a significant stage in the construction of City campus. The time capsule is a gift from City of Glasgow College to the staff and students of the year 2066. Its contents are a personal record of a shared history, offering a glimpse into the hopes, dreams and ambitions for our future and their present.
"This was a 'live' project for our product design students who responded impressively to a challenging specification for a capsule which will stand the test of time. Designing the capsule and identifying its contents gave our students the chance to play an active role in the development of City campus and contribute to its legacy."