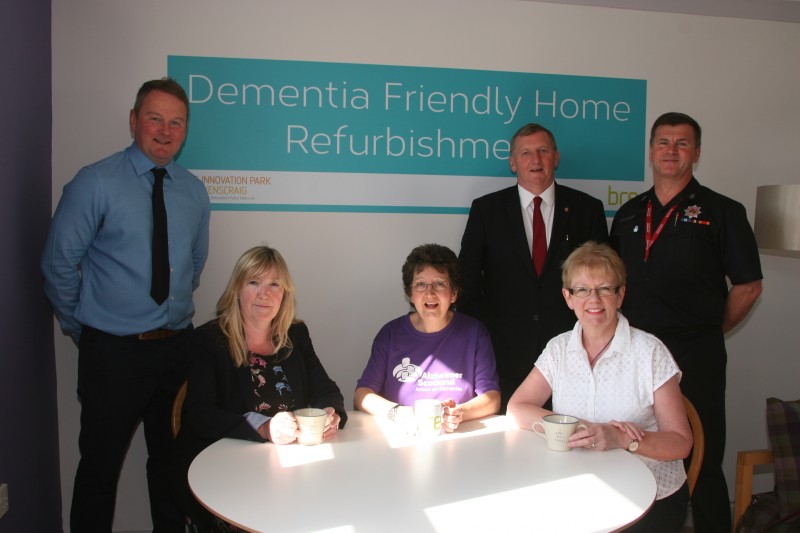 A dementia-friendly demonstration home has been launched at the BRE Innovation Park in Ravenscraig.
With the number of people living with dementia in Scotland set to double in a generation, homes which make life easier for those living with the condition are of paramount importance.
Coinciding with Scottish Dementia Awareness Week, and in conjunction with Alzheimer Scotland, BRE has unveiled the Dementia Friendly House which highlights how adjustments to traditional homes could make living at home safer.
Representatives from the Scottish Fire and Rescue Service as well as research academics from the Universities of Stirling and the West of Scotland highlighted innovations including the latest 'assistive technology' devices which reduce risk and help with tasks and activities in the home.
Gillian Barclay, Head of Dementia Policy at the Scottish Government joined Alex Rowley, Deputy Scottish Labour Leader in officially unveiling the innovations which represent the Dementia Friendly House.
Dr David Kelly, Group Director BRE Innovation Park Networks said, "At the BRE Innovation Park @ Ravenscraig we are continually looking for innovative design, technologies and systems which will inform the future of our built environment. With housing as a cornerstone of our communities, it is imperative that we continually look for innovative solutions that allow people to age well within their homes.
"An ageing population, housing shortage and increasing pressures on public sector services, means the provision of comfortable, safe and accessible housing for all is critical to the social fabric of Scotland, and across the UK. We are delighted to be working with our partners on the Dementia Friendly Home project, and they bring a wealth of experience to this particular initiative.
"By working together and engaging with a broad spectrum of society, we can identify solutions that can allow people to enjoy a safer and more secure home life."
Joyce Gray, deputy director of development, Alzheimer Scotland, added, "The demonstration home is a fantastic resource which will help inform housebuilders today and the future. The dementia-friendly design which we are showcasing today is really the first step towards creating living environments which support the needs of those living with dementia, keeping them safe and giving them the ability to live longer at home.
"The home also features a range of domestic products tested by people living with dementia. With over 90,000 people living with dementia in Scotland and the number on the rise, we're delighted that the housing sector is starting to take the issue seriously."