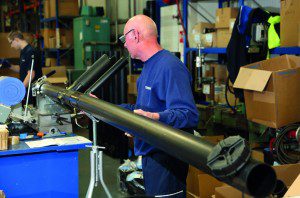 With construction projects across the UK given strict deadlines to adhere to, every available avenue for time saving needs to be explored. Many contractors and consultants are now realising that the offsite manufacturing of drainage stacks can help projects not only meet deadlines, but reduce the cost via manpower. Scott Conaghan, Regional Sales Director for Scotland at Polypipe Terrain, explains how the use of modern materials, such as PVC and high density polyethylene and offsite construction can speed up installation of drainage systems whilst keeping overall costs to a minimum.
SINCE the financial crisis in 2008, the construction industry has lost 343,000 jobs and is set to lose another 400,000 to retirement in the next decade.
With the Construction Industry Training Board (CITB) estimating that we will need approximately 224,000 skilled construction workers to be trained over the next five years in order to meet demand for commercial space, it is of paramount importance that specifiers look into alternative construction methods.
The Construction Products Association (CPA) also forecasts that UK construction output will grow by more than 20% by 2019, making it imperative for contractors and specifiers to find time saving solutions.
In order to mitigate the effects of a diminishing workforce, consultants and contractors can utilise technology to provide end results more quickly while reducing cost.
Using software such as BIM can produce 3D drawings, enabling the design of buildings to be planned to exact standards, removing margin for error and quicker specification.
Architects and contractors can also make use of offsite manufacturing facilities to provide ready-made materials for new developments, which would assist in speeding up the design, manufacture and installation of drainage systems in new build and refurbishment.
The use of offsite construction when designing and manufacturing commercial drainage systems can significantly reduce the amount of labour time required to complete a job onsite.
By providing pre-assembled drainage stacks and bespoke product solutions to each project's exacting standards, installing the drainage within a building needn't delay the projects deadlines.
The use of alternative materials such as plastic, can also speed up the installation of drainage systems.
As plastic is lighter in weight than cast iron, drainage stacks can be made in longer pipe runs, which means less jointing is required.
A reduction in the number of joints required also reduces the chance of leaks within the system.
Plastic piping also allows the use of electrofusion jointing, further ensuring system integrity as any welding is as strong as the host material.
The construction industry has historically been accused of generating significant waste. In order to improve this perception, the Government has challenged those within the industry to reduce waste and emissions, through initiatives like construction 2025.
Early engagement with offsite manufacturers allows drainage stacks to be designed and constructed with factory precision.
Pipe runs can be made to the exact lengths required for a project, eliminating cut off waste.
This approach drives out onsite waste when installing the system, as well as providing innovation and solutions benefiting the designers, contractors and the end user.
As drainage systems are built in factory controlled conditions, the stacks are a better quality of build and finish, with fewer defects.
Each run is made by a highly skilled and trained workforce, using production line techniques, delivering benefits to site health and safety.
Additionally, as a result of the strict quality controls in place within a factory environment, offsite fabrication can significantly reduce the risk of product failure and defects which could arise from the use of inexperienced labour.
Using drainage specialists with access to the latest design and manufacturing equipment, enabling first draft designs in 3D, BIM libraries, factory assembled drainage stacks are designed specifically to provide unique problem solving drainage solutions. By utilising offsite construction for drainage systems, and working with experienced manufacturers from the early design stages, construction projects can adhere to strict deadlines, whilst providing the most cost effective and environmentally friendly drainage solution available.