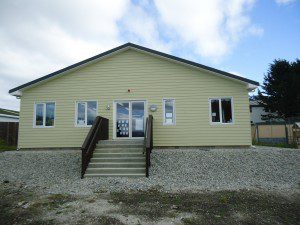 TIMBER engineering specialist Scotframe has been involved in two innovative projects some 8,000 miles away on the Falkland Islands.
The Inverurie-headquartered firm supplied a new extension to the school in Port Stanley and also delivered kits for 30 new homes on Sapper Hill on the remote British Overseas Territory – with 30 more to follow.
The company has revealed it will be tendering for future housing – up to 150 homes – on the Sapper Hill estate once on-going infrastructure works are completed.
A spokesperson for Morrison Construction/Galliford Try, which is overseeing both the school and homes projects through its subsidiary Morrison Falklands Ltd said, "With the school extension, Scotframe supplied the full kit for a new classroom, a kitchen and a boiler room. It provided everything, down to tables and chairs, kitchen fittings and sanitary units.
"The extension was necessary to accommodate the growing pupil community and, with the population of Port Stanley now standing at 2500, it is likely that further extensions will be required in the future."
The school is situated behind the hospital and government buildings in Port Stanley.
The spokesperson added, "Scotframe originally shipped 20 kits for the Sapper Hill development and was asked to provide another 10. These homes are now up and occupied.
"It is now sending out another 30, the first of which have already embarked on the long voyage. Scotframe delivers them to Grangemouth, where they are loaded on a cargo ship for Montevideo in Uruguay, where they are transhipped for the Islands.
"When the orders were placed with Scotframe, the timescales were very tight and the company responded extremely professionally. It was certainly the best value for money of all the providers we looked at.
"Everyone on the Islands, from the contractors and clients to the people who are now living in these lovely new homes, is very pleased with the quality and efficiency delivered by Scotframe – even though it is halfway round the world!"
Scotframe said the kits they supplied provide the structure for a series of two- and three-bedroom semi-detached homes as well as for apartment blocks of four homes and four-house terraces.