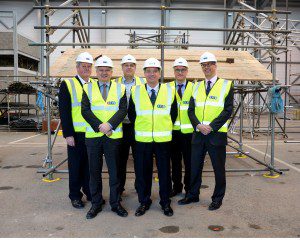 A deal has been struck to build the first scaffolding training centre in the North East of Scotland, providing much-needed facilities to the region.
The Construction Industry Training Board (CITB) commissioned the Aberdeen-based facility due to increasing demand for scaffolders and insufficient training in that part of the country.
The CITB and ASET International Oil & Gas Training Academy (ASET) have now signed a contract to build the centre, which will be used to "train and upskill the Scottish work force and benefit both the construction and oil and gas industries".
Work on the new building has started and the first intake of apprentices and trainees could arrive by the end of the year.
ASET was named as preferred bidder in November and will lead the project to completion. The facility will be built by Aberdeen contractors, North Group, and designed by Arch Henderson & Partners.
Ian Hughes, strategic partnerships director at CITB Scotland, said, "It is fantastic to see this project moving ahead at pace. The facility will provide Scotland with a stunning new training facility preparing the next generation of scaffolders for their career.  Our partnership with ASET enables CITB to ensure the right skills are in place to meet Scottish construction's current and future needs, and allows training to be delivered at a local level."
Atholl Menzies, chief executive at ASET, added, "As well as contributing to the local economy this purpose-built facility will go some way to meet the demand for accredited CISRS qualifications at introductory and advanced level in the region – from Dundee to Shetland.
"This is an exciting development for ASET and we are anticipating a very positive response from employers and individuals alike to the portfolio of courses on offer, which are in the process of being finalised."