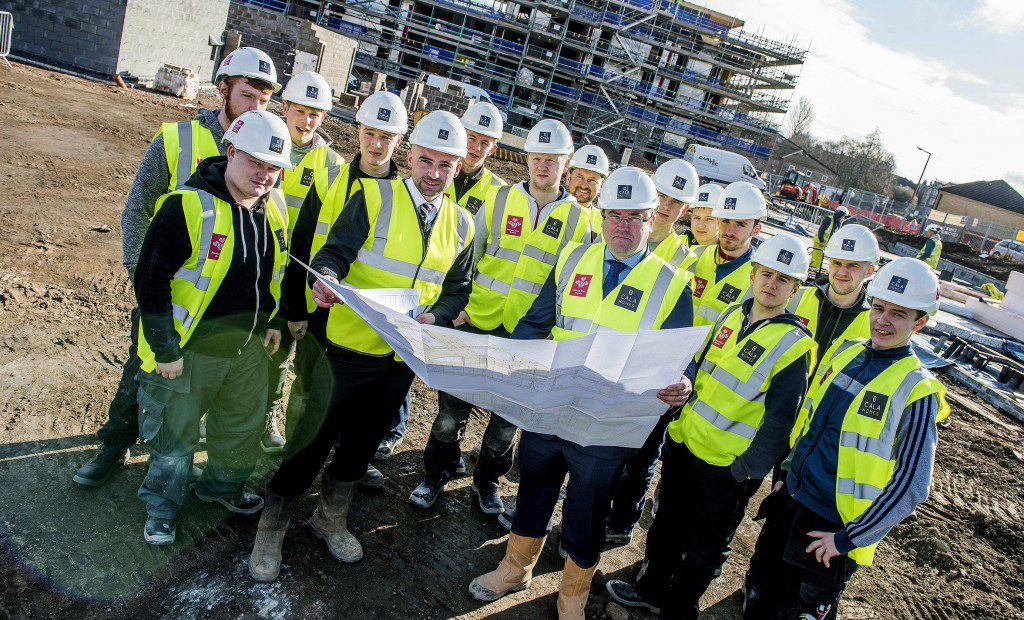 CALA Homes (East) has joined forces with The Prince's Trust and Edinburgh College to launch a new initiative aiming to provide disadvantaged unemployed young people a chance to develop new skills and gain hands-on experience.
Ten local people, aged between 18 and 25, have successful secured apprenticeships after completing a 'Get Into Construction' course run by The Prince's Trust in partnership with CALA and Edinburgh College.
The group spent two weeks at Edinburgh College where they completed basic training and construction skills, received careers advice and gained their CSCS card, enabling them to work on construction sites. The group then undertook vocational experience at CALA developments across the capital.
Each trainee will continue to receive support from a Prince's Trust mentor over the next six months.
David McGrath, managing director for CALA Homes (East), commented, "CALA is delighted to work with the Prince's Trust, offering young people the opportunity to learn about the construction industry and the variety of careers that are available. The industry needs new talent if we are to address the national shortage in skilled trades and to have had such a positive response to the scheme from the trainees, CALA employees and our sub-contractors is fantastic.
"Unemployed young people often just need the chance to prove they have the motivation and talent required to get onto the career ladder. It's clear from the feedback we've had from the teams on site that these young people have jumped at the chance to make the most of this opportunity.
"All ten trainees have now been offered a permanent apprenticeship either with CALA or one of our sub-contractors, which is testament to the impact that these programmes can have. Everyone involved has worked extremely hard to get this pilot programme running and their enthusiasm and dedication has been key to making it such a success."
Allan Watt, director of The Prince's Trust Scotland, said, "We were delighted to join forces with CALA Homes to offer young people the chance to get the skills and experience they need to break into the construction industry. Huge congratulations to all the young people on the programme.
"The Prince's Trust Scotland is committed to supporting disadvantaged and unemployed young people into work, education and business. Our Get Into programme brings together employers and The Prince's Trust to offer courses in everything from cooking to construction, logistics to retail. We would love to hear from any young person who wants to find out what opportunities we can offer to help them achieve their goals."
John Laing, head of the Institute of Construction and Building Crafts at Edinburgh College, added, "This employability programme is a great example of successful partnership working which has enabled students to realise their potential in the building crafts trade. For all of the students to have secured an apprenticeship after completing the programme is an excellent result and an effective way to capture the new wave of talent coming through in Joinery and Bricklaying."