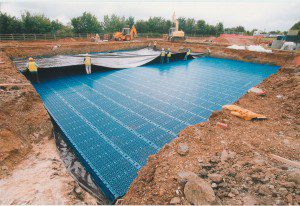 With last winter's floods having caused significant problems across the UK, and Storm Desmond having seen record-breaking levels of rainfall, stormwater management and flood control has been pushed up the agenda. At the same time the increasing need to deliver new housing is intensifying the challenges of managing surface water run-off for developers and housebuilders. Martin Lambley, Product Manager, Foul, Utilities and Water Management at Wavin, tells Project Scotland how engineered SuDS solutions are a key part of the answer.
THE UK Government has committed to build 400,000 homes across the UK before the next General Election. Even before this announcement last Autumn, planning permission for many developments on flood plains have been granted in order to try and reduce the yawning gap between housing supply and demand.
With this driver combined with increasing incidence of storm events and heavy rainfall planning departments have recognised the need to work with developers to manage the risk of surface flooding using SuDS (Sustainable Urban Drainage Systems).
It is a simple truth that the more we extend our urban areas, the more we reduce the available amount of land for rainfall to able to soak away into the ground, thereby increasing surface water run-off.
The traditional approach of letting surface water run into the foul sewage system is costly and discharging from sewers into local watercourses poses environmental risk if misconnections occur between the two systems. In any case the UK's ageing foul sewage systems can quickly be overwhelmed by the intense levels which have been seen in recent events.
Specified at the earliest stage of a project, i.e. when site selection and design is underway, a comprehensive SuDS approach can manage the damaging effects of increased surface water run off in a way that is integrated into developments.
Specification options for SuDS 
There are a wide variety of options available for local authorities charged with managing water at source whilst reducing demand on the drainage and sewer infrastructure.
Engineered and more 'natural' above ground approaches can be successfully combined allowing designers and planners to match a solution with requirements for local land use and the needs of local people as well as considering future scenarios.
Natural SuDS solutions include features such as swales, retention ponds and detention basins, which can all add amenity, biodiversity and green space to a development.
In most cases a combined approach looking at natural options working holistically with engineered solutions such as concrete culverts, plastic pipes, attenuation tanks and soakaways will provide a best practice solution appropriate for a particular scheme.
Modular geocellular tanks – sized to perfection
One of the most effective and proven ways to manage stormwater is to store it temporarily underground using a geocellular tank, before being slowly released back into groundwater via infiltration.
Modular tank systems can be used to create underground structures as small or as large as required, accurately sized to the discharge requirements of a particular scheme.
Wavin is a pioneer in the management of stormwater at source using engineered SuDS approaches, having designed and developed modular, lightweight, high-void systems which efficiently deliver water capture, transportation, cleansing and infiltration/attenuation.
Made from either specially formulated recycled material or virgin material, the Wavin AquaCell system is available in four different unit varieties which can be mixed and matched to create the right installation for every application. The individual units can simply be clipped together or for additional strength designed and laid in a 'brick bonded' format for enhanced stability, to form the required volume.
Once in place, the units are then wrapped in either a geotextile or geomembrane depending on the type of installation required. For permeable soils, the geotextile filter fabric option allows the attenuated water to seep slowly back into the surrounding ground. Where infiltration is either not desirable or not possible an impermeable geomembrane is used to wrap the completed structure, allowing it to act as a reservoir and retain the stormwater until local drainage flows can accept it.
The modular AquaCell method enables the creation of an irregularly shaped tank if required to maximise use of the site, and also has the strength and durability to withstand heavy traffic loading.
Whether just delivering a few units clipped together as a soakaway or thousands of units forming a vast underground reservoir, the tried and tested AquaCell system enables designers and developers to provide the effective engineered SuDS solution which the project requires.
A sustainable project in Kent won Wavin's 2015 Ecobuild AquaCell competition which saw the Betteshanger Sustainable Parks benefit from 200 AquaCell units donated by Wavin plus a cheque for £10,000 towards groundworks and installation as well as complementary systems.
The ambitious £40 million project is designed to regenerate a part of East Kent which has suffered from setbacks since the closure of the last Kent coalfield at Betteshanger in 1989. It is hoped the project which will house sustainable businesses in a commerce park will generate 1,000 jobs giving a major boost to the local area.
Modular attenuation tanks are being increasingly specified to deliver engineered SuDS solutions underground which are closely tailored to project requirements. High-strength tanks are not only fast to construct and cost-effective with the units, they also offer important health and safety benefits on site, being made of lightweight polypropylene which can be easily installed by hand.