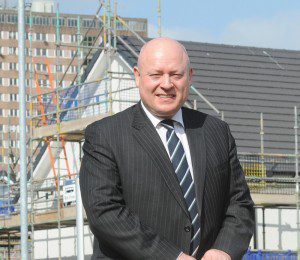 THE construction industry faces a "mammoth task" in trying to change public perceptions about the sector and recruit suitably talented individuals to address skills shortages.
A recent YouGov poll found that around two-thirds of people in the UK would NEVER consider a career in the construction industry.
The survey, commissioned by Construction United, confirmed what many have known for a while – that construction still has an image problem and the reality of careers in the sector is in stark contrast to public perceptions.
41% of the 2,000 respondents believe construction is one of the sectors least likely to require higher or further education, with more than half seeing the industry as "dirty" and "strenuous".
Allan Callaghan, managing director at Cruden, told Project Scotland, "These findings illustrate the mammoth task facing those in the construction sector who are actively trying to address the skills gap. While perceptions do exist that construction is something for those to 'fall into' if they aren't doing well at school, the reality couldn't be further from the truth.
"Construction as an industry is a constantly changing sector, one which has always been cyclical and crucially, one which will always offer opportunities for workers at any level.
"While it would be wrong for me to suggest that elements of certain jobs do not require a level of hard work and strenuous activity, this greatly overlooks the wide range of roles the sector supports. From structural engineering to quantity surveying, architects to site managers, construction requires much more than what is often wrongly perceived as a sector reliant on labourers.
"A role in construction can be exiting, challenging and fulfilling, with the potential to take those working in the sector all over the world. It is up to the industry in its entirety to shout this from the rooftops, ensuring the lifeblood of the industry continues to flow for the years to come."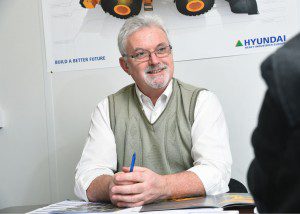 The YouGov poll revealed the  scale of the challenge facing the construction industry in attracting new blood.
Brian Young, managing director of Stirling-based Young Plant Sales and a member of the executive committee of the Scottish Plant Owners Association (SPOA), believes more should be done at school level to promote the positive aspects of a career in construction.
Giving his personal views on the matter to Project Scotland, Brian said "little attention" is given to traditional industries at school where the "career and teaching system seems to be geared towards 'modern' technology and trends such as web and PC-based learning".
Brian added, "Whilst this is necessary, traditional forms of employment are required to provide basic essentials such as food production and preparation and social needs such as housing, shelter and infrastructure – without these the whole system cannot be sustained.
"Today's construction and civil engineering jobs and plant and machinery servicing and repair work require a good understanding of both old school skills and modern technology combined and the schools need to address this area as many pupils will inevitably find employment in this field.
"Due to skill shortages now these opportunities should be promoted with priority within the education system. Whilst many jobs may be seen as "dirty" they can undoubtedly be profitable yet with the adoption of new machinery and modern procedures we would suggest that construction work is the least "strenuous" it has ever been.
"There are lifting and laying devices and attachments to cope with almost every aspect of today's jobs."
Brian said it is also a common misconception that construction workers are poorly paid.
"Construction workers, even at a low qualification scale, can earn tremendous salaries," he added.
"There is very gainful and profitable employment within our industry and as housebuilding and infrastructure spending increases the skill shortage will inevitably further increase the salary for skilled construction workers. The construction industry is still an industry to be proud of and one every young school leaver should be aware of. The construction industry is in fact the very foundation of our society."
Doug Keillor, regional director, BAM Construction, believes the variety of work and career progression opportunities should act as incentives to potential new recruits.
"BAM Construction along with many other contractors works hard to promote the opportunities of a career in construction and attract bright people from all backgrounds to join our industry," he explained. "For example, since 2010 we have created opportunities for 15,364 students in Scotland, England and Wales to understand better what our industry does, through apprenticeships,  work experience, site visits and activities that support the curriculum.
"Our sites are safe, clean and well managed places of work. One of the best things about construction is that no project lasts a lifetime so there is plenty variety and opportunity for all – regardless of what level you come into the industry –  to progress, to meet new people and thrive on new challenges.
"A career in construction offers many career paths for people with professional qualifications with the prospects of good salaries and progression.
"Most companies like BAM also offer the opportunity to gain professional qualifications while working. Increasingly, construction is becoming a high tech industry with virtual modelling and other digital advances.
"Most of all it provides the opportunity to work on creating buildings that have a real and positive impact on the quality of people's lives, the environment and our economy."
Brian McQuade, managing director of the Scotland and north-east England arm of Kier's Construction division, said, "Changing people's perceptions of working in construction is at the heart of Kier's activity in Scotland. Our work with hub South West Scotland on the Adopt a School initiative raises awareness of the industry while equipping school pupils with the right foundations to consider a career in the construction sector. The aim of the course is to educate and inspire secondary school pupils, by highlighting skilled roles including architects, engineers and project managers.
"The responsibility falls on us all to position a career in construction as something not only to aspire to from a young age, but to be proud of."
The construction industry needs an estimated 100,000 extra workers to cope with Britain's infrastructure construction demands according to the  Government's National Infrastructure Plan for Skills report. Construction United is a coalition of companies and experts which promotes the positive aspects of the sector.
Mark Tomlin, UK Group sales and marketing director at one of Construction United's major contributors, SIG Distribution, added, "It's a shame that a sector as broad and diverse as construction can often be viewed negatively.
"For the most part the public only really see loud, inconvenient building works rather than seeing essential improvements to our country.
"One of our central aims is to combat and not only make the industry more proud of the great work it does, but to ensure that the public sees the benefit of new buildings and infrastructure. The results of this survey prove that there is a huge disconnect between the way that construction is viewed and the reality. A sector that provides so much to the UK economy, and whose role is to modernise the buildings that we live in and the transport links we use every day, should be seen as a vital, worthwhile sector that the country should be rightly proud of. While many may only see contractors in hi-vis wear, there's an army of architects, designers and support staff that make it one of the most diverse working environments possible."