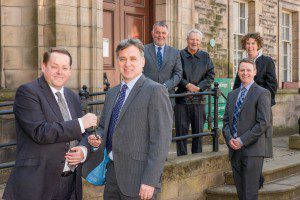 MAJOR refurbishment work has commenced on a new £3.9 million mixed-use Partnership Centre in Linlithgow.
West Lothian Council is creating the centre at the town's County Buildings. A number of facilities will be relocated there including Linlithgow Library, Customer Information Services, Local History Library, Family History Society, Annet House and St Michael's Day Centre for the elderly. Police Scotland will also be relocating there from the nearby station.
Maxi Construction has been appointed to "undertake the full refurbishment of the building's interior and turn the building into a modern Partnership Centre". Work on the project is expected to be complete by February next year.
Executive councillor for Culture and Leisure, Dave King, said,  "This multi-million pound investment will transform County Buildings and provide local people with first class community facilities in the heart of the town centre. The investment will safeguard the future of this important building for generations to come."
Council Leader John McGinty added, "The building was previously used to deliver some council services, with limited public access to the property. The works will allow the internal space to be used more efficiently, and to open up large parts of the building to the public. The refurbishment and improvement works will ensure the building is multi-functional, modern and fit for purpose.
"By investing nearly £4million in the new Linlithgow Partnership Centre, we are maximising the building's use, delivering value for money and improving services for customers."