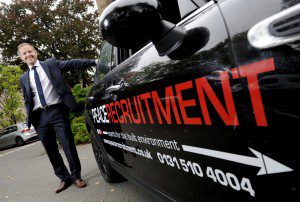 AN Edinburgh-based construction recruitment specialist has announced ambitious expansion plans.
Peace Recruitment says its "huge success" in the Scottish market has allowed the firm to start recruiting for placements in London and abroad.
The company, which started out as a 'one-man band' in 2009, now has 14 consultants and a multi-million-pound turnover. Peace was recently named the best small recruitment firm in Scotland
Built environment specialist Kenan Beaverton has been appointed to manage the expansion. He was previously a director with Balmoral Global Resourcing and has over 18 years' experience in global markets including oil & gas, renewable energy, consulting engineering, construction, telecommunications and IT. He has joined Peace as manager for the London and International business.
Kenyan Beaverton said, "Peace ticks every box for me in terms of being a progressive, ambitious and client-orientated business. It shares the common values that I consider 'a must' in business which include, honesty, flexibility, excellent customer service and a valued business partnership with its clients and candidates.
"I intend to capitalise on Peace Recruitment's current client agreements, developing these relationships further into the London and International markets. I will also be able to secure new clients by using my extensive recruitment experience within the construction, oil and gas, renewable energy and the technology sectors. My intention is to deliver senior level staff to market leaders initially within the London region and to build a new recruitment delivery team dedicated to the needs of these new clients."
Chris Peace, managing director of Peace Recruitment, added, "We took this decision as the market is booming currently, and increasingly more of our clients are asking us to assist them in London and abroad. Also, after our recent awards win it seemed like the perfect time to make this happen. It is now our aim to grow this company further in the next three years, and not only make it the construction and engineering recruitment company of choice in Scotland, but also compete in the London and international markets.
"To make this work it was vital we found a highly experienced individual to manage the process to ensure we maintain our very high standards while moving into new markets, and Kenan stood out as soon as I was introduced to him. He is a big hitter with a proven track record in our key target sectors, and has vast experience and knowledge of London recruitment and overseas. We plan to expand our London and international team to at least five consultants over the next three years."