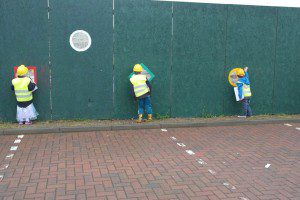 SPRINGFIELD Properties has taken inspiration from classic TV show Play School by installing colourful viewing windows to allow local children to watch the construction process unfold at its Hanover Housing Association care home site in Elgin.
The firm is working with Hanover Housing Association to deliver 32 flats, designed specifically for residents with dementia.
Springfield installed round viewing panels in the site's hoarding after nursery children at the nearby Magic Roundabout Childcare Centre expressed a desire to watch the progress of the construction.
The site team will also give a talk to the youngsters about construction and safety as a part of their mission to engage with the local community.
Assistant site manager Lester Reynolds said, "I grew up watching Play School and I remember that going through the round window with Floella Benjamin was always the most exciting part of the show. When the site hoardings were to be placed next to the nursery's car park, rather than block the site out, we wanted to use it as a learning experience for the children.
"We worked alongside the nursery and installed viewing panels at a child-friendly height to allow the children to view the works and see the progression from a safe area."