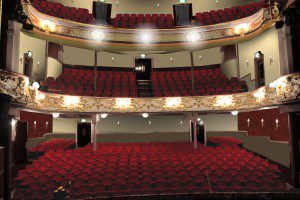 Austin-Smith:Lord's conservation team and interior designer Julia Grant are to rejuvenate the auditorium at one of Scotland's oldest theatres.
The project is part of a £2.4 million renovation and remodelling of the iconic B Listed Gaiety in Ayr, made possible by funding from the Social Growth Fund, Heritage Lottery Fund, Creative Scotland and Scottish Government (People and Communities Fund).
Austin-Smith:Lord has delivered the architecture and interior design for the wider, two phase project. The firm said Phase 1 included "upgrading of the ticket sales area and restyling of the entrance and foyer, improvements to the bar and café area ventilation and heating together with remodelling of the kitchen and additional back of house facilities".
Phase 2 includes improvements to the main foyer, front and back of house technical upgrades and the auditorium restoration.
David Millar, director at Austin-Smith:Lord, said, "The Ayr Gaiety Partnership has bold ambitions to redevelop The Gaiety as the leading performing arts venue in south west Scotland and encourage performing arts and culture across the town and wider South Ayrshire region. We're thrilled to play a role in this very exciting new chapter in the life of the much-loved Gaiety."