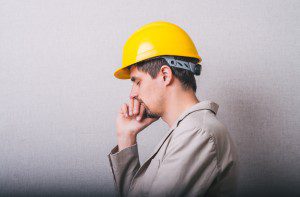 NEW research has revealed "very real concerns" about the rates of mental health problems amongst construction workers.
A survey involving members of the union UCATT found that 64% of respondents said they are suffering from stress. 76% said they had at some point suffered stress in the workplace while 30% had taken time off work due to stress.
Brian Rye, UCATT acting general secretary, said, "What this survey shows us is that we have a significant issue affecting thousands of us in our daily lives, and which degrades our lives to such an extent we take time off work."
With regards to mental health, 35% of respondents said they were suffering from a mental illness or had suffered from a mental illness. Of these members 44% had taken time off due to mental health issues but 75% had not raised their problems with management.
Mr Rye added, "UCATT's aim is to bring the discussion of mental health in the construction industry into the foreground. Our members' mental health is just as important to us as their physical wellbeing. The taboo of not talking about depression and anxiety needs to be addressed – for everyone's health and safety. Let's change our industry and our society for the better."