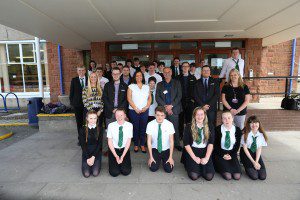 REPRESENTATIVES from Graham Construction have been highlighting the available career opportunities in the building industry to school pupils in Dumfries.
Graham's regional community benefits advisor, Debbie Rutherford, brought a team including two technical apprentices, buyer Stephen Chisholm and environmental officer John McGrory, to lead an activity day as part of the Dumfries High School's employability course.
Following a presentation, pupils were split into groups to take part in a practical exercise which saw them tasked with constructing a tower made from LEGO. They had to build their free-standing towers as high as possible in the shortest space of time and to a cost with only the materials provided.
A session also focused on presentation and interview skills. Each pupil was given time to prepare for an interview in front of a panel and given feedback at the end.
Debbie Rutherford said, "Today's visit was just one of the many community-based projects Graham Construction will deliver through the duration of the Dumfries Learning Town project. As well as providing a number of career talks, we will also provide trade and technical work experience placements to the area's secondary pupils, as well as students from Dumfries & Galloway College.
"Wherever possible, we are also committed to offering job opportunities to local residents. We introduced the two technical apprentices to the pupils today in order to give them the platform to talk about what it's like to work for GRAHAM and what a career in the construction industry is actually like."
Graham was appointed as main contractor to develop the Dumfries Learning Town in spring last year and is currently working on phase one of the programme.