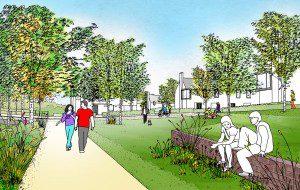 LOCAL residents and organisations will get the chance to see the proposed masterplan for New Brunstane in Edinburgh at a community consultation event.
The EDI Group will outline its plans at a second event on 18 May at the King's Manor Hotel and show how the comments and feedback received at pre-application consultations have informed the masterplan development.
The property development and investment group said this will complete the pre-application consultation process relating to the land at Brunstane and showcase the final proposals intended to be submitted for a planning permission in principle.
Eric Adair, from The EDI Group Ltd, said, "We welcomed the fact that almost 300 people attended our first event to find out more and to share their views on EDI's emerging vision for the proposed New Brunstane masterplan. This second event will be an opportunity for local community and residents to see how the feedback from all consultation has informed the final masterplan proposals before we submit our planning application.
"It is our aspiration that the masterplan for New Brunstane will introduce a new green and well-designed neighborhood into the east of Edinburgh, delivering homes, green open spaces, public amenities and a local primary school, as well as creating over 2000 jobs during the lifetime of the development."