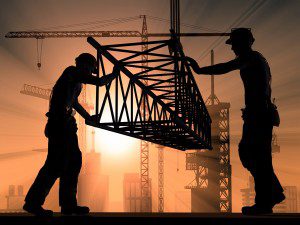 CONSTRUCTION workers affected by blacklisting will share a compensation payout worth more than £10 million following the conclusion of a five-year legal battle.
Unite has secured an extra £4 million for 97 of the 256 claimants, bringing the total compensation package to £10.435 million.
The union said the payouts could range from £25,000 to £200,000 per claimant depending on factors including loss of income.
Separately, the GMB announced it has also settled its claim against the construction industry for a total of £5.4 million plus millions in legal costs. An agreement was reached last month but details could not be revealed until all claimants' cases had been resolved. The union said 116 blacklisted GMB members have also received a "full apology" from the firms involved.
Construction union UCATT confirmed it has won £8.9 million on behalf of the 156 cases it took for its blacklisted members.
The GMB said it understands the total value of settlements for GMB, UCATT, GCR and Unite members is "around £75 million for 771 claimants including legal costs on both sides estimated at £25 million".
The announcement brings to an end to the five-year battle to secure compensation for workers affected by the scandal, which was exposed in 2009 when the ICO seized a Consulting Association database containing more than 3,000 names, which was used by dozens of firms to vet potential new recruits.
In October 2013, eight UK construction companies announced they were developing a scheme to compensate workers whose names were on the database. Balfour Beatty, Carillion, Costain, Kier, Laing O'Rourke, Sir Robert McAlpine, Skanska UK and VINCI PLC apologised for their involvement and The Construction Workers Compensation Scheme was launched the following summer.
Unite general secretary Len McCluskey said, "The massive scale of the agreed damages – more than £10 million – shows the gravity of the misdeeds of these major construction companies which created and used the Consulting Group as a vehicle to enable them to blacklist trade unionists on behalf of more than 30 construction companies.
"The sums to be paid out go a considerable way to acknowledge the hurt, suffering and loss of income our members and their families have been through over many years. Under the agreement they can once more apply for jobs in the construction industry without fear of discrimination."
Tim Roache, GMB General Secretary commented, "We have secured £5.4 million of justice for the GMB members blacklisted by powerful construction companies who thought they were above the law.
"GMB is proud to have been the first union into the High Court and we are absolutely delighted that all of the blacklisting claimants have achieved generous settlements and a full apology from the blacklisting companies. For decades household name construction companies implemented an illegal blacklisting system, which denied a generation of trade union activists and health and safety reps an opportunity to provide for themselves and their families. Finally they have been held to account in public and at great cost to them financially and reputationally."
A statement on behalf of the Defendants in The Construction Industry Vetting Information Group Litigation, said, "Balfour Beatty, Carillion, Costain, Kier, Laing O'Rourke, Sir Robert McAlpine, Skanska UK and Vinci PLC today announce that they have settled the litigation between them and individuals represented by Unite regarding the activities of the Economic League and the Consulting Association.
"The construction companies settled with the claimants represented by GMB, UCATT and GCR on 29 April 2016. The settlement with Unite brings to a close all the claims in the litigation.In October 2015, the construction companies – unlike any other companies involved in the vetting system – spontaneously and openly acknowledged that the system was unlawful in various respects and made a full public apology, which was widely reported at the time.
"Unite, UCATT, GMB and GCR have now all accepted this public apology.
"The construction companies have offered financial settlements which all claimants represented by Unite, UCATT, GMB and GCR have also now accepted. All parties have also agreed a joint statement to be read in Court as part of this settlement.
"These construction companies wish to draw a line under this matter and continue to work together with the trade unions at national, regional and site level to ensure that the modern UK construction industry provides the highest standards of employment and HR practice for its workforce."