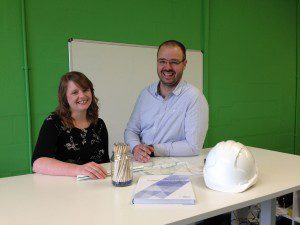 Environmental and engineering design consultancy Idom Merebrook is expanding its operations in Stirling with a move to the city's Stirling University Innovation Park.
The Spanish-owned firm, part of the Idom group, which employs 2,700 people worldwide, has made the move to the larger premises from Castle Business Park.
Alex Sinclair, principal engineer at Idom Merebrook, said, "Stirling was recently voted the 'best place to start a business' in Scotland and it is easy to see why. As well as high quality office space, our new base at the Innovation Park offers us exceptional business support, the chance to join a well established network of innovative businesses and access to the University's world-class expertise in environmental science.
"To attract the top engineering talent you need to offer people an enviable lifestyle to match their career aspirations. As Scotland's most affordable and arguably most beautiful city, Stirling ticks all the boxes."
Lynn Blaikie, head of Stirling University Innovation Park, said, "Stirling's central location and stunning landscape, coupled with its excellent transport links and highly educated workforce, make the Innovation Park an ideal base for businesses large or small. Idom Merebrook's workforce spans the globe, but they have identified Stirling as a growth area particularly in the renewable energy market."
Nigel Huish, managing director at Idom Merebrook, added, "Scotland offers compelling business opportunities for Idom Merebrook, and with a growing customer base here we are delighted to be able to expand and develop our resources by moving into Stirling University Innovation Park."
The company's current Scottish projects include the renovation and restoration of Alytre Estate and the £50 million redesign and expansion of the Michelin tyre curing workshop, located in Dundee.