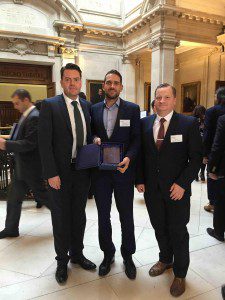 GRAHAM Construction was recently named 'Contractor of the Year' at the NEC Awards in London for its work in providing health care facilities throughout Scotland.
Having been 'Highly Commended' in the same category last year, it was a sweet victory for the firm at the annual awards ceremony, which marks the world's best project delivery examples which promote good practice through collaboration.
Graham is one of five Principal Supply Chain Partners working with NHS Scotland within the Health Facilities Scotland 2 framework. Appointed in 2013 to the six-year programme of works, Graham is currently delivering design, build and construction projects comprising of differing packages of new build, refurbishment, backlog maintenance, statutory compliance and risk reduction works for a number of Scottish NHS health boards.
Gary Holmes, regional director of Graham Construction, said, "We're extremely pleased to be presented with this tremendous accolade, which further underlines the company's credentials as an industry expert delivering first-class facilities for the health sector.
"Graham has completed numerous high-profile and complex work programmes in the health sector throughout Scotland, and we have done so while always ensuring minimal disruption for patients, staff and members of the public. The recent completion of the state-of-the-art Critical Care Unit (CCU) at Monklands Hospital – the first of a 12-phased work programme to be completed by spring 2018 – is a perfect example of this. Ensuring the hospital remained fully operational was one of the most important aspects of Phase One's work programme at Monklands and I'm pleased to say this was never compromised during the project's delivery."