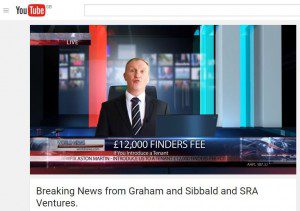 AN Edinburgh-based property investment firm has adopted an innovative approach to marketing a vacant sight in the city's Sighthill area.
SRA Ventures, in conjunction with property agents Graham and Sibbald, has created a 'breaking news' style trailer to showcase its Bankhead Industrial Estate unit.
The short clip has quickly gone viral, earning 3,000 online views in just a couple of days.
SRA Ventures is also offering a £12,000 finder's fee incentive package that is open to all agents. It is calling on agents whose clients may be interested in renting the refurbished 8,500 square foot property to contact them, with the landlords then paying the finder's fee to those that can secure a tenant.
Shaw Rasul, owner and founder of SRA Ventures explained, "We think this is an eye-catching and interesting method of capturing market interest with huge potential possibilities for the future. We are simply looking to promote the features of an excellent property to the widest possible audience, in turn capturing the imagination of tech-savvy tenants and property agents alike.
"In other words, we are effectively taking an opportunity to them, instead of waiting for them to come to us. With a further total of £12,000 in incentives awaiting those that can secure a let, we think it's a very effective way of bringing tenant and property together."
Jon Steele, surveyor for Graham and Sibbald, added,  "We have been blown away by the results of this viral campaign, and have already had a number of very positive enquiries. Agents have been contacting us to say that colleagues have forwarded the video to them. The response has been infinitely better than a normal campaign, and has far exceeded our expectations."