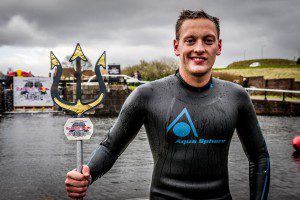 Mark Deans, one of Scotland's top open water swimmers, has signed a sponsorship deal with housebuilder Mactaggart & Mickel Group.
The 20-year-old, who is from Jordanhill in Glasgow, is a member of the City of Glasgow Swim Team, Scottish Open Water Swim Team and British Open Water squad.
The funding will support Mark as he focuses on qualifying for the 2016 European Open Water Championships.
Commenting on the sponsorship, Mark said, "Mactaggart & Mickel Group do a lot for Scotland and local communities, I feel so honoured to have the support of such a respected company.
"Sponsorship is vital to competitive athletes and the support is really going to help me as I work towards achieving my goals this year. Without assistance from Mactaggart & Mickel Group I would have to spend more time at my part-time jobs to supplement my earnings and less time training, which would seriously affect my swimming performance.
"With the Scottish and European Open Water Championships this year, and the 2017 World Championships and 2018 Commonwealth Games just around the corner, it's so important for me to dedicate as much time as possible to my training schedule. I can't thank Mactaggart & Mickel Group enough for helping me achieve my dreams."
Ed Monaghan, chief executive of Mactaggart & Mickel Group, added, "It is a privilege to support such a committed and talented young swimmer like Mark. He is a fantastic role model for aspiring Scottish athletes and we look forward to watching his progress."