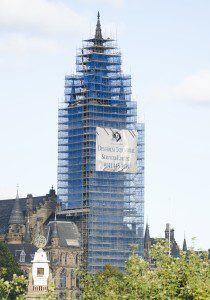 THE University of Glasgow's iconic bell tower pierces the skyline of the city's West End. Glasgow's second tallest building, the 279-foot neo-gothic structure is a ubiquitous sight across the city.
Since being completed in 1891, the tower routinely takes a thrashing from Scotland's volatile weather and its stonework periodically needs repairing.
The structure had not been scaffolded for 25 years until June of last year when Denholm Industrial Services took on the challenge of working on such a prestigious, A-listed site, with Conservation Masonry carrying out the restoration works.
The UK-wide company has offices in Glasgow. The Group itself started off as a shipping company in 1866 before diversifying into sectors including painting, shot blasting, surface preparation and scaffolding in the 1980s.
George Muir, general manager of Denholm's scaffolding division, said that this project was very much a "specialist job".
He explained, "Coming from the ground there's not a problem but when you're going right up to the top of the spire we had to erect aluminium beams.
"I think roughly there were about 180 to 190 beams erected right through the chamber on level eight.
"They had to be constructed so, basically, the scaffold was getting built off the beams and the beams were taking all the weight.
"It is external all the way up. Ground level was not a problem, obviously, but to get up top you had to go through the windows and right through the chamber with beams and we had to get designs for it.
"It's called a diamond beam, six to eight metres long – that's all got to be plan braced.
"The amount of scaffold fittings involved in joining all these up is unbelievable; you would have to really see it to appreciate it. There's just a hell of a lot of work in it."
The process of erecting the scaffolding took 17 weeks to complete, with a team of around 15 scaffolders/labourers.
It was "a great job to erect for scaffolders and it has worked well," said George.
However, the site did pose challenges.
"As far as erecting the scaffolding, our main problem was the weather – high winds and things like that. You've got to be very, very careful.
"It was all built to design and it went up fine, just a wee bit of a slower process because of the amount of work involved.
"There was, in total, about 225 tonnes of scaffolding material on the job, which is a lot!"
George continued, "It's a listed building and obviously you do your method statements, your toolbox talks and everything like that every morning and you've just got to be careful, it's as simple as that.
"You don't want to start knocking hell out of the stonework!"
With work now completed, the scaffolding is in the process of being removed.
"What goes up must come down," said George.
Speaking on the removal of the beams, he said, "We actually got them up through a double winch – you get it up to one level and you've got to transfer it up to another winch but with taking them down, I've got more guys involved and we're actually physically passing them down, which is quicker."
George said that he is "bang on programme" with the removal.
"Normally, it's about half. If it's four weeks to erect a scaffold, it's two weeks to bring it down. I'm looking at about eight weeks.
"We've been held up with the Easter holidays and a couple of days of really heavy rain but I've caught it up again.
"I've been involved in scaffolding now, believe it or not, for nigh on 50 years.
"I've been on some very interesting projects, and this is one of the best I've been involved in, in all the years I've been at the game.
"How it was designed and how it was constructed – the guys did a really good job on it."