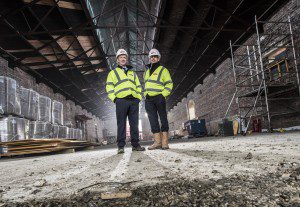 ESH Group,which includes Livingston-based Esh Border Construction, has been placed 54 in the Sunday Times BDO Profit Track 100.
The list ranks the UK's private companies with the fastest growing profits over three years.
The construction specialist was named in the league table after recording an average profit growth of 75 per cent for that period. In 2014, it delivered a turnover of £253 million and profit before tax of £9.1 million.
The annual rundown placed Esh Group alongside such names as Edinburgh Woollen Mill, BrewDog and Paterson Quarries.
Esh Border Construction has established its place in Scotland since opening an office in Livingston last year. Esh was named the appointed contractor on Historic Scotland's £8.9 milion Engine Shed project in Stirling, which is due to open later this year.
Simon Phillips, regional MD for Esh Border Construction, said, "Being ranked alongside some of the best businesses in the country such as BrewDog and Edinburgh Woollen Mill tells us that we are moving in the right direction – and our Scottish presence has aided that progress.
"We underlined our commitment to Scotland last year with the opening of our Livingston base, and have continued to enjoy a pleasing pipeline of work including new build developments, sympathetic regeneration work, and high quality social housing. The new base widens our coverage in Scotland and has enabled us to deliver projects across the Central Belt.
"The extension of our Added Value work in the community via our award-winning Building My Skills programme – supported by over 60 other businesses – has also further demonstrated our commitment to Scotland. Of course, a major part of any company's success is also its partners; we firmly believe that working closely with our subcontractors and suppliers is key.
"With the number of infrastructure and construction projects across Scotland continually increasing, adding value in everything you do is increasingly a key driver of sustainable growth."