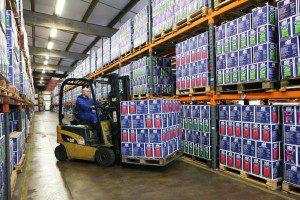 RP Adam Ltd (Arpal Group) has completed a £400,000 overhaul of its UK headquarters at Selkirk.
Central to the cleaning and detergent manufacturer's investment programme is a major expansion and reconfiguration of the factory and warehouse facilities, resulting in a 40 per-cent increase in storage capacity at the Selkirk site.
The company has also invested almost £250,000 in plant and equipment – including new filling lines for smaller pack sizes, and a warehouse racking system. A new gas boiler system costing more than £160,000 has also allowed RP Adam to convert its heating from oil to gas.
RP Adam said the two-year investment project was launched as the company's UK production volumes increase to match year-on-year sales growth. The 2014/15 financial year saw the manufacturing volume at Selkirk rise by 11 per-cent, and this year volumes are set to increase by a further 13 per-cent.
Martin Carroll, Group technical director said, "With several new long-term contracts bedded in and a number of supply partnerships starting to bear fruit, we decided now is the time to invest in improving the entire site – both from a capacity and operational standpoint.  RP Adam moved into our current site in the 1970s, when our business was much smaller than it is today. At the time, we built a purpose-built facility which allowed for room for growth – and now we have the right facilities in place to both sustain current and drive future growth, which matches the company's ambition."
The recent expansion at Selkirk plant is a major part of RP Adam's five year investment and growth programme, launched to mark the anniversary, which sets out a £20 million turnover target to be reached by 2020.