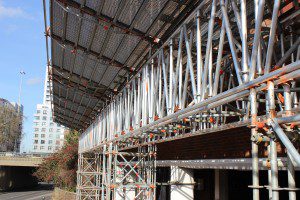 LAYHER says the firm's new heavy duty lightweight aluminium beam will open up new opportunities in a wide range of scaffolding applications.
With a depth of 1.25 metres between top and bottom chords, the development, says the company, combines strength and versatility. The product can be used in conjunction with Layher's modular Allround system or with tube and fit scaffolds.
Sean Pike, Layher's UK managing director explained, "The HD beam benefits from our commitment to engineering design and testing which has resulted in strength that will be widely recognised by everybody in the industry.
"The top and bottom chords gain from a 60mm OD with the upright and diagonal chords having a 48.3mm OD. A maximum moment of 150 kNm at 1.036 top chord restraint and shear of 53.8kN are the direct results."
Layher revealed it developed the system with installation versatility in mind, which has "led directly to a choice of several beam lengths ranging between 1.036 metres and 5.18 metres".
Each incorporates Layher's rosette system and post spacing and can be specified with a range of accessories and fittings.  "For example, apex sections of between 6° and 36° are available as are corner, T and cross beam connectors," Sean Pike added. "Moreover, the HD beam accepts a range of temporary roofing designs, including the Keder system, while a further choice of accessories from lifting eyes and hanging standard adaptors are also available."