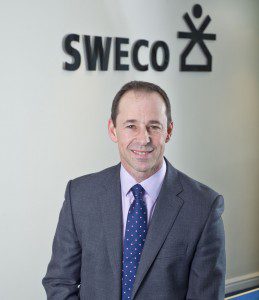 ENGINEERING consultancy Grontmij UK has been rebranded Sweco, marking the completion of its acquisition by the architecture and engineering consultancy.
Grontmij was acquired last October by Swedish-headquartered Sweco.  In the UK, the company employs 800 people and has particular expertise in the fields of energy, transportation, environment, asset management, sustainable buildings and water.
It consults on major projects nationwide via its network of offices in Bristol, Cardiff, Edinburgh, Glasgow, Leeds, London, Maidenhead, Manchester, Newcastle, Peterborough and Solihull.
Sweco UK managing director, Max Joy, said, "Our rebrand represents the next step of our successful integration of Grontmij into Sweco. We are Europe's leading engineering consultancy and are already providing our UK clients with the benefits that this combined knowledge and experience brings.
"The UK construction industry is resurgent and presents us and our clients with a multitude of opportunities. Sweco has a distinct, intelligent approach to the way it consults which is insight-driven and dedicated to planning and designing the communities and cities of the future. We are confident this formula will prove as successful here as it does throughout mainland Europe and the world."