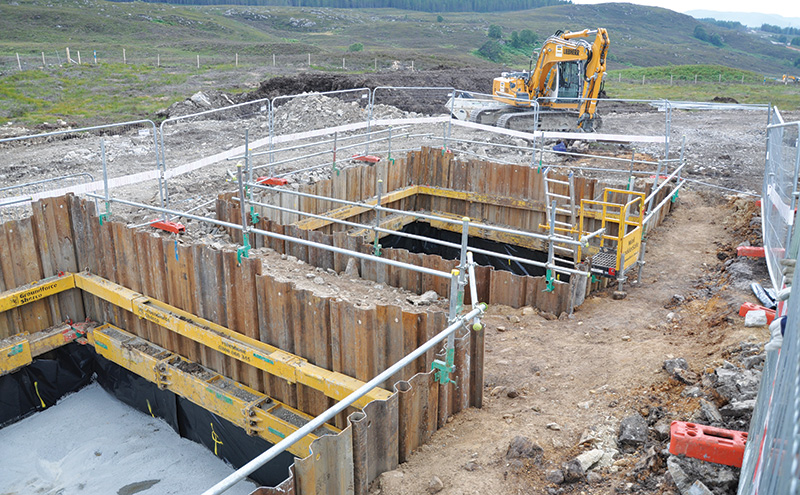 GROUNDFORCE is one of the country's leading suppliers of rental equipment, specialising in specific sectors of the construction industry – mainly groundworks. The company has played a vital role in many high-profile projects, from the Aberdeen bypass to the £100 million Shieldhall Tunnel scheme in Glasgow. Project Scotland's Gary Moug met with Richard Cherrie, regional sales director for Groundforce in Scotland, to discuss how the firm has evolved.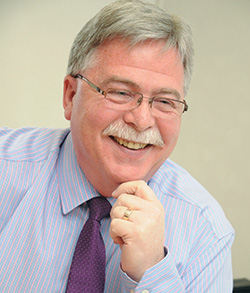 Q) WHAT'S THE HISTORY OF GROUNDFORCE?
A) Vibroplant had its own shoring business, known as SHORPAC, which developed in the early 1970s with a product range consisting of trench boxes, trench sheets and some hydraulic frames.
In 1990 Vibroplant made its first of many acquisitions – the SGB Groundforce business. Both businesses ran in tandem but the SGB business had a wider product range at the time. Since then, through the 1990s and early 2000s we've continued to grow the business in Scotland, mainly by organic growth and in part through acquisition of other allied businesses.
In my early days with the business, I could hardly have expected that we'd grow to where we're at just with the diversity that we now have. We now operate in sectors which we hadn't previously, such as piling hammers and pipe testing integrity. We now have seven operating businesses under the Groundforce umbrella.
Q) HOW IMPORTANT HAS THE SCOTTISH MARKET BEEN TO GROUNDFORCE?
A) The Scottish market has been fairly significant to the growth of Groundforce, both in terms of product development but also being part of a national organisation, which brings greater strength to the business offering.
With the investment we've had within the Scottish region, the facilities are growing. We've new offices in Coatbridge and returned to Aberdeen where we have a new facility, which is important for the north east sector where we recognised there was increasing demands for our products and services. It was a logical step to put a business there.
Q) MOST MEMORABLE PROJECTS?
A) Over the years there have been many. One would have to be supporting Morrison Construction in Shetland for a major gas terminal project. The logistical requirements to get equipment to that area was a challenge in itself, as was the range and volume of equipment. For a business to have demands for 100 trench boxes almost overnight, when the standard order might be just three or four, was enormous.
Another project I was immensely satisfied with at the time was the Beauly to Denny Transmission Line, which was carried out by Balfour Beatty Utilities Services. This project stretched over 100 miles in all geographical locations including mountainous locations. Some of the locations we had to get to were literally halfway up a mountain. We supplied predominantly hydraulic frames and sheets to form the excavations for the tower bases for the pylons. Many of the locations were inaccessible so the onward delivery of the equipment was heavy-lift helicopters. It's fairly spectacular to see your products being shifted in that way.
We also continue to support Scottish Water's framework and all the challenges that brings, from roadside dig-ups to massive civil engineering projects. There are many numerous projects which are small in scale but complex in requirements. Groundforce has become synonymous with delivering solutions to those types of problems. Contractors know we have the capacity and ability to deliver.
Q) WHAT'S YOUR OWN BACKGROUND?
A) I started my career in the early 1980s with Scaffolding Great Britain (SGB) as a management trainee, moving around various businesses developing and learning. My first foray into excavations and shoring was with one of their businesses as a manager for SGB Construction Lasers, and I suppose that's where I found my forte. That developing business became known as the SGB Groundworks Division and latterly Groundforce, from where it was acquired by Vibroplant.
My role now as regional sales director involves managing the internal and external sales functions, engaging with customers at various levels and ensuring liaison between the various functions of our business that support the on-site delivery of equipment. There's a huge operational function here.
Q) WHAT CHANGES HAVE YOU SEEN IN THE INDUSTRY?
A) I would have to say the most notable have been the changes in legislation, which in some ways was long overdue. Also, the qualifications and skills of on-site personnel.
There are many graduate engineers out on-site now, who are only too willing to engage in the temporary works planning process. That is fantastic for the industry's future and long may that continue. Legislation has brought forward changes in our approach to product developments. We're trying to anticipate which way the industry's going in order that we develop and bring through the products that support either changes in construction methods or changes in legislation.
Q) IS THERE ANYTHING YOU'D CHANGE IN THE INDUSTRY?
A) Yes. Some of my views might not resonate well with some folk in the industry but if we accept that excavations on construction sites are considered as being the most hazardous and dangerous operations on a site, then I think it is a requirement that the people involved in executing those works – the guys installing the equipment – do have a qualification that is a stated qualification by legislation.
Q) ANYTHING THAT WOULD SURPRISE PEOPLE ABOUT GROUNDFORCE?
A) The size of the infrastructure. The face and shape from the customer's perspective is the local salesperson. I'm sure they'd be surprised to learn the size of the infrastructure that supports what he does out in the field. We have over 30 qualified design engineers, a huge logistics operation and quite a substantial administration operation too, as well as IT. A lot goes on in the background to support what happens out on-site. The product research and development background guys are unsung heroes in the industry.
Q) WHAT CURRENT PROJECTS ARE YOU WORKING ON?
A) We're well engaged with the Shieldhall Tunnel project. We have a significant commitment to that project, which covers 3-5km under some of the most densely populated areas of Glasgow. Our particular involvement is with the cut and cover section, providing a support solution to allow the formation of the culvert which leads into the tunnelled section.
We also have a heavy commitment with Scottish Water to the UID (Unsatisfactory Intermittent Discharge) programme. We're involved in numerous excavations, providing the ground support equipment to CSO (Combined Sewer Overflow) systems. And we're having an increased demand from the Aberdeen Western Peripheral Route (AWPR). Our depot is ideally placed to meet that demand.
Q) WHAT ARE THE LATEST EQUIPMENT INNOVATIONS?
A) The most recent one which is very pertinent to Scotland, I had a fairly minor role in, is the development of an off-set handrail for trench boxes. One of our customers approached us after identifying a potential risk on-site and asked if the suppliers could collaborate to find a solution to this problem. Groundforce delivered the only solution. I'm delighted for our technical director, Tony Gould, who has been nominated for a safety award by IOSH (Institution of Occupational Safety & Health) for his work in this area.