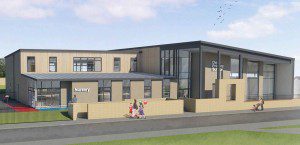 Official contracts have been signed for a new primary school for Dailly in South Ayrshire.
The £3.8 million project, funded by South Ayrshire Council, is set to deliver a school with educational facilities over two levels, replacing the now-demolished original school building. The site is due to open in early 2017, with a capacity of 100 pupils.
Valerie Andrews, executive director of resources, governance and organisation, South Ayrshire Council, said, "Supporting our rural areas is a really important to the Council and this latest project will safeguard education in Dailly for generations to come.
"We listened to what the local community said they needed and to date we've received excellent feedback on our plans to transform the local school.
"With the main work now getting underway, I'm confident the community will like what they see when the doors open next year."
Michael McBrearty, chief executive of delivery partner, hub South West, said, "With a proven track record of delivering for South Ayrshire, we're thrilled to be taking forward another prestigious project.
"The signing of contracts is a major milestone for the project but the hard work starts now to make sure we can deliver a first-class facility for the people of Dailly.
"I'm looking forward to continuing to develop our relationship with South Ayrshire Council as we work towards delivering this impressive new educational facility."