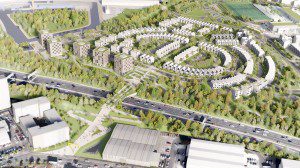 The tender process for a £65 million housing project in Glasgow will start on April 18.
Companies are being invited by Glasgow City Council to pitch for contracts to regenerate the Sighthill area of the city in the largest housing project of its type outside London.
This round of procurement includes 650 new homes, 450 of which will be for private sale with up to 200 being sold directly to a local housing association for mid-market rent. These are in addition to 141 social houses already built on the site for Glasgow Housing Association.
Patrick Flynn, head of housing policy and services at Glasgow City Council, said, "The launch of this procurement process marks a significant stage in the extensive regeneration of Sighthill.
"This phase of the project will provide 650 fantastic new homes to the people in north Glasgow as part of an innovative and bold new development which will revitalise the area.
"The project will bring transformative change to the local community and wider Glasgow but it also serves up a sizable opportunity for the UK construction sector. The tender process for this housing project is likely to generate keen competition for this substantial development."
Professional services firm EY is acting as financial advisor to Glasgow City Council.
Phil Milne, EY executive director and head of infrastructure, said, "Glasgow and Clyde Valley's City Deal identified the redevelopment of Sighthill as a crucial infrastructure project for the region and the benefits will prove to be extensive.
"Strong partnerships between public and private sectors will deliver revolutionary change to Glasgow and across Scotland through the City Deals and we are proud to have played a role in supporting GCC as they deliver this inspiring project."