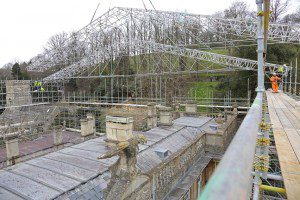 SGB recently provided an unusual access solution to enable large-scale repair works to be carried out on a historic building.
The firm was drafted in to work on the £3.8 million National Trust project to repair the roof of Dyrham Park house, a 17th Century mansion house in Gloucestershire.
"As well as providing access to the roof for the repair teams, we were also asked to install a full temporary roof covering to protect the Main House and Orangery during the refurbishment," explained Chris Rogers, Northern design manager for SGB.
Colette Cuddihy, the National Trust's project manager added, "This is a major project for us – the roof is 150-years-old and we'd expect the new one to last at least as long. So it really is a once in a lifetime chance for visitors to be allowed up onto scaffolding and to see the extent of the work needed to take apart such a large and complex roof and make it weather tight and secure for the future.
"We have used 500 tonnes of scaffolding to clad the house – it was specially designed to include the new walkway which circles the whole roof with two viewing platforms, giving a view both inwards over the roof and out from the scaffolding across the park and gardens of Dyrham Park."
Chris Rogers said the whole structure is completely free-standing, which "removes the risk of any damage that might have been caused if we'd had to tie it into the building".
The scaffold reaches 27m at the ridge and is constructed from Cuplok,  SGB's steel scaffold system designed  for general access, shoring and vertical load support applications. The scaffold is fixed to the ground using Mini Screw Piles which are anchored at depths of 2 – 10 metres to accommodate differences in the subsoil around the building.
Unusually, the scaffold incorporates a viewing walkway. "The walkway is 15 metres high and gives the public the chance to see the conservation team at work on the roof," Chris added.
"This is something the National Trust has advertised as an extra 'visitor experience'. Fortunately, Cuplok is such a strong system that we were able to accommodate this request without any problem."