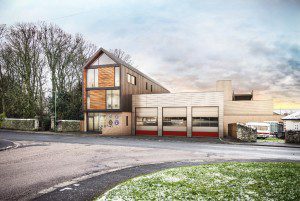 Contractors working on the Barnard Castle Emergency Services QUAD Station have come up with a technique to 'protect and preserve' mature woodlands owned by neighbouring Bowes Museum.
Roberson Construction England, which is scheduled to complete the £3.5 million project by December this year, has "introduced a transfer slab solution within the piling installation which avoids the need load onto the tree root protection zones. This means the new building is effectively supported on stilts", according to a spokesperson.
A tree protection matting system is also used "which sees the team of 10 construction workers carefully manoeuvre on designated, purpose laid paths that weave through 30 metres of mature woodlands to ensure tree roots are not damaged during construction".
Regional Managing Director of Robertson North East England, Garry Hope, said, "This job is a delicate one which is why we are going to such great lengths to deliver it on time while remaining sympathetic to the historic surroundings.
"We collaborated with NAPPER Architects very early on to come up with a bespoke solution because we knew there would be some obstacles. And our preparation has paid off.
"The QUAD is the first of its kind in the UK so we're delighted to be the ones delivering it. I am confident that it will lead to more stations of this type once it's up and running at the end of this year."
Once complete, the QUAD will be a multi-use station for four first response units including Police, Fire and Rescue, Mountain Rescue and Ambulance.
Andy Bruce, estates manager from Durham and Darlington Fire and Rescue, said, "Robertson delivered the build of our accommodation centre for day crews in Seaham and Newton Aycliffe last year and we were very happy with the end result. They won this particular job following a competitive bid process. It is good to be working with them again because they understand our organisational needs.
"This is a compact site which sits within residential area so there was a lot to consider when planning this work. Robertson's sympathetic approach to the neighbouring community is standing them in good stead."