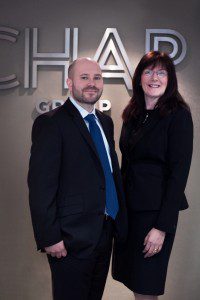 CHAP Group has appointed a new finance director and land manager.
Shona Gee is joining the Westhill-based group's senior team as finance director, transferring from the energy sector, and bringing 25 years of experience in both the private and public sector.
Michael Thomson is the new land manager of the CHAP Homes division, having previously held the same position with a national house builder.
Douglas Thomson, CHAP Group joint managing director, said, "We are delighted to welcome both Shona and Michael to the business. Both bring extensive experience in their fields of expertise and will have a pivotal role to play in the future of the group. We see great opportunities to continue growing and Shona and Michael will be important in driving forward with those plans."
Shona Gee said, "I am looking forward to the challenge of working in a new sector. CHAP Group retains the feel of a family business despite 40 years of growth and those strong values have been a major part of the success to date. I'm enthusiastic about playing my part in the months and years ahead."
Michael Thomson said, "CHAP Homes has an excellent reputation and I'm keen to help build on that as we shape the development pipeline. We operate in a competitive environment but have an experienced, talented and committed team well placed to drive forward with exciting plans for the future."