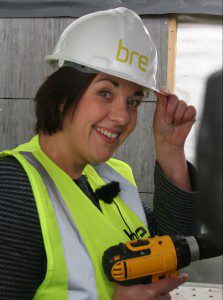 KEZIA Dugdale has launched the final phase of Curriculum House at the BRE Innovation Park at Ravenscraig.
The leader of the Scottish Labour Party met with students from New College Lanarkshire who are involved with the demonstration home, described as the first 'live' higher level educational project of its kind in the UK. The building offers a glimpse into how homes for the future might function.
Designed as a family home, the Curriculum House aims to achieve Gold Level compliance with Section 7 of the Scottish Building Standards and is comprised of a thermally efficient closed panel timber frame build system called Val-U-Therm, manufactured by Scotframe, which "minimises the energy needs of the home and generates minimum waste".
With an adaptable internal structure conducive to meeting the changing needs of a family over time, the low carbon house also features the latest in renewable technology. Other key features include TETRiS, an eco-friendly, super strong and highly insulated structural flooring alternative to beam and block floors.
Miss Dugdale said, "Education is at the heart of everything I do as Scottish Labour leader. There's no future for Scotland as a low wage, low skill economy, and we need to find new ways to help our people develop the skills they need to compete for the jobs of tomorrow – this project looks like exactly the sort of course we need to develop so that more young people have access to jobs and opportunities."
Dr David Kelly, Group Director BRE Innovation Park Networks added, "This project will have a significant impact in terms of making our buildings better but also in helping us progress the skills of our young people so they can develop careers fit for the global workplace, therefore, we are delighted that Miss Dugdale has taken time to find about more about the Park in general and the Curriculum House in particular."