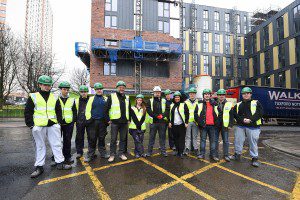 STUDENTS from New College Lanarkshire have visited one of Graham Construction's latest projects to "consolidate their learning in real world, large scale environments".
The visit to the £18.6 million student accommodation project at St. James Road in Glasgow was arranged as part of the company's pledge to support a construction course at New College Lanarkshire.
The Graham pre-apprentice course was created to allow students to identify and associate themselves with a potential employer at an early stage to give them a greater understanding of the construction industry.
As part of the partnership agreement Graham staff provide employability support and visit the Motherwell-based campus to give career talks and advice.
The course also provides students with a six-week work placement covering various trades.
Debbie Rutherford, Graham's regional community benefits advisor who helped set up the course, said,  "It's fantastic to be working in partnership with New College Lanarkshire supporting young people to help realise their potential and the various career options within the construction industry. Graham Construction fully supports the 'Developing Scotland's Young Workforce' agenda to improve skills, knowledge and prospects for young people and will continue to provide these opportunities in the coming years."
Graham is a member of the "5% Club", an organisation consisting of companies committed to ensuring 5% of their workforce over the next five years is comprised of young people on structured learning schemes.