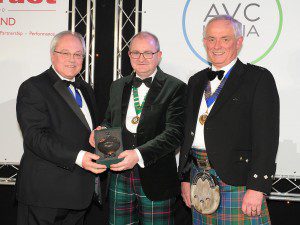 The Chartered Institute of Building (CIOB) has presented Neil Kelly, head of construction at MacRoberts LLP, with its Open Award for services to the construction industry.
Speaking on the award, Neil said, "It's a huge honour to receive this award and I am very grateful to CIOB Scotland. The award reflects the work of the whole construction team and the strong relationship that MacRoberts has with the industry.
"It is a pleasure to be involved in a sector that plays such a vital role within the Scottish economy and has such an important effect on its built environment."
Neil has led MacRoberts' construction group since 2003 and was company chairman between 2011 and 2014. He has been the recipient of other awards including an honorary membership of the Royal Institute of Chartered Surveyors and an honorary fellowship of the Royal Incorporation of Architects in Scotland.
John MacMillan, managing partner of MacRoberts LLP, said, "Neil Kelly has been a powerhouse in the construction team for 30 years or so and continues to perform at that level.
"This award by the CIOB is, first of all, richly deserved; secondly, amounts to exactly the sort of professional recognition that the august institute would generously dispense; and, thirdly, makes us all at MacRoberts feel delighted on Neil's behalf."